Dual Purpose Breeds: Columbia
MATURE BODY WEIGHT
Ram 250-350 lb.
Ewe 160-240 lb.
AVERAGE FIBER DIAMETER
Micron 29-23
Spinning Count 62-54
GREASE FLEECE WEIGHT
Ewe 12-16 lb.
YIELD
45-55%
STAPLE LENGTH
4-6"

Columbia was the first breed developed in the U.S. beginning in 1912 from Lincoln x Rambouillet crosses. Columbias are a hardy and gregarious breed and make good mothers. They are one of the larger-sized breeds in the U.S., have white faces with wool extending down the legs and are increasingly used as terminal sires to produce fast growing lean market lambs. They yield heavy, medium-wool fleeces with good staple length.

Registrations - Previous five year average, 6,115
Search for additional information about Apparel, Fashion or Clothing.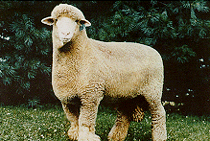 If you wish to education yourself further in regard to textiles or fibers, we suggest you check our Fashion School Directory. The Fashion Schools educate regarding fashion as well as textiles...