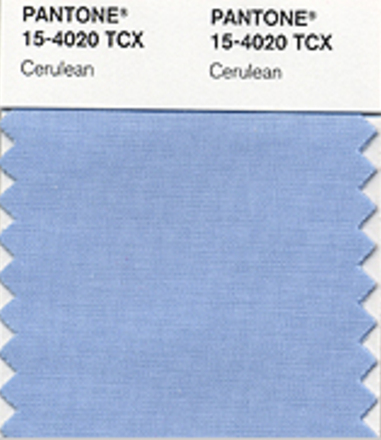 This color represents the millennium because of the calming zen state of mind it induces. Blue is known to be a calming color.
Pantone pointed out that looking at the color blue can reduce blood pressure, heartbeat and respiration rate. It is also related to the water issues that were predicted to occur around the world and in general the idea of the exhaustion of our natural resources.
Lifestyle movements suggest that consumers will be seeking inner peace and spiritual fulfillment in the new millennium. This is a paradoxical time in which we are heading toward an uncertain, yet exciting, future, and also looking back, trying to hold onto the security of the past. In this stressful, high-tech era, we will be searching for solace and Cerulean Blue produces the perfect calming effect.
As quoted in the Pantone press release on April 26, 1999, "Psychologically, gazing at a blue sky brings a sense of peace and tranquillity to the human spirit," says Leatrice Eiseman, executive director of the Pantone Color Institute®. "Sky blue is imprinted in our psyches as a retiring, quiescent color. Surrounding yourself with Cerulean blue could bring on a certain peace because it reminds you of time spent outdoors, on a beach, near the water - associations with restful, peaceful, relaxing times. In addition, it makes the unknown a little less frightening because the sky, which is a presence in our lives every day, is a constant and is always there. That's the dependability factor of blue."