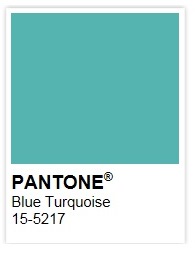 Blue Turquoise 15-5217 is a calming shade (and trendy shade).
Blue Turquoise differs from true Turquoise in its gentler tone with less green which makes the color a bit cooler.
Following the theme of nature from 2004's color, Tiger Lily, Blue Turquoise is the color of the sea.
Note: The Colorstrology Color of the Year for 2005 was Violet Tulip (PANTONE® 16-3823).