Chili Pepper must be a very HOT color.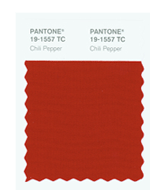 PANTONE 19-1557 Chili Pepper, a deep, spicy red.
"Whether expressing danger, celebration, love or passion, red will not be ignored," explains Leatrice Eiseman, executive director of the Pantone Color Institute®. "In 2007, there is an awareness of the melding of diverse cultural influences, and Chili Pepper is a reflection of exotic tastes both on the tongue and to the eye. Nothing reflects the spirit of adventure more than the color red. At the same time, Chili Pepper speaks to a certain level of confidence and taste. Incorporating this color into your wardrobe and living space adds drama and excitement, as it stimulates the senses."