Radiant Orchid blooms with confidence and magical warmth that intrigues the eye and sparks the imagination. It is an expressive, creative and embracing purple—one that draws you in with its beguiling charm. A captivating harmony of fuchsia, purple and pink undertones, Radiant Orchid emanates great joy, love and health.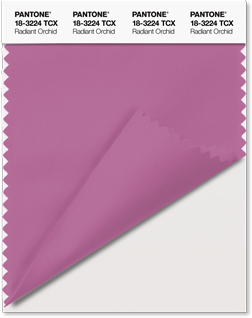 18-3224
Radiant Orchid for Fashion

Radiant Orchid's rosy undertones radiate on the skin, producing a healthy glow when worn by both men and women. A dazzling attention-getter, Radiant Orchid permeated the runways during the spring 2014 fashion shows and is already making its way onto the red carpet. Fashion designers featured in the PANTONE Fashion Color Report Spring 2014, including Emerson by Jackie Fraser-Swan, Juicy Couture and Yoana Baraschi, are incorporating Radiant Orchid into their spring collections and variations of this hue will carry into men's and women's clothing and accessories throughout next year.
Radiant Orchid for Beauty

A modern and surprisingly versatile shade, Radiant Orchid enlivens the skin, making all who wear it feel more healthy and energetic. Blending both cool and warm undertones, purple is an appealing hue for distinctive combinations and flattering to many hair, eye and skin tones.