We hope you really enjoy fashionable clothing ... Style, Design, Elegance ... and more.
Born in Normandy, France in 1905, Christian Dior was truly a fashion icon of the 20th century. Dior's popularity initially began through his incredible line of hats. As his popularity continued he began expanding his highly sophisticated designer label into one of the largest collections in the world. The label now consists of a wide range of designer clothing, handbags, accessories and shoes for men and women. His breathtaking pieces have won the hearts of fashion enthusiasts all over the world.

February 12, 1947, Dior showed his debut collection, presenting the 90 different looks. Named "Corolle" and "Huit", the lines were quickly christened the "New Look", a phrase coined by US Harper's Bazaar magazine editor Carmel Snow.

Dior established a luxury ready-to-wear house on the corner of 5th Avenue and 57th Street in New York in November 1948. It was the first of its kind. In the same year, he launched Dior Parfums - with Miss Dior being the first fragrance to launch, and Diorama launching the following year.

1949, Dior was the first couturier to arrange licensed production of his designs. Having realised the importance of the complete look - and that the New Look could not be successfully achieved without the correct Dior shoes, gloves and hat - Dior, together with business partner Jacques Rouët, licensed his name to a range of luxury accessories.

1955, the 19-year-old Yves Saint Laurent became Dior's design assistant.

Christian Dior was a French couturier, best known for his eponymous fashion house which is often referred to as just Dior.
| | |
| --- | --- |
| Bing Search Results: | Google Search Results: |
| | |
Apparel Search guide to Christian Dior Profiles photos, Christian Dior Profiles videos, Christian Dior Profiles news, Christian Dior Profiles blog posts and more... If you are interested in fashion and style, you will be interested in Christian Dior Profiles.
Visit the official Dior website.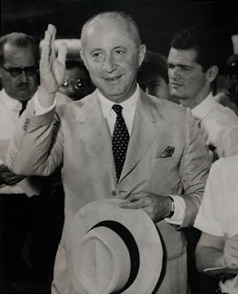 We hope that you have enjoyed learning about Christian Dior Profiles.

Return to the Fashion Designer section. Or search for designers by the

fashion designers name

.

In the opinion of Apparel Search, fashion should be designed with a few primary concepts in mind. The garments should be glamorous, practical, comfortable, stylish, and in the right weight and color. If designers follow these rules they will present only sumptuous and striking fashion...

When selecting designer fashions, please make sure that you select clothing that is appropriate for the occasion...

See what the fashion celebrities are wearing. They love wearing designer fashion.