Chambray Shirts
Are chambray shirts in style? Sure, why not? Chambray shirts are one of those classic items that are always appropriate for your wardrobe. They may not be on the cutting edge of fashion, but their is a place for at least one in every persons wardrobe (unless you only live in cold climate areas).
Although most chambray is a light blue color, chambray can actually be in other colors as well. Chambray and denim are sometimes confused by some people, but they are definitely not the same type of fabric.
Chambray was originally a linen-finished gingham cloth with a white weft and a colored warp, producing a mottled appearance. It is now also produced with cotton. Chambray shirts are made with chambray fabric.
First let's learn more about chambray fabric.
Cambric or batiste, one of the finest and most dense kinds of cloth, is a lightweight plain-weave cloth, originally from the French commune of Cambrai, woven in greige, then bleached, piece-dyed and often glazed or calendered. Initially it was made of linen; later, the term came to be applied to cotton fabrics as well. Cambric is used as fabric for linens, shirts, handkerchiefs, ruffs, lace and needlework. The term "cambric cloth" also applies to a stiff, usually black, open-weave cloth typically used for a dust cover on the bottom of upholstered furniture.
Chambray, though the same type of fabric as cambric, chambray typically has a colored warp and a white weft, though it could be made from any color as you may wish, in the warp, and also in the filling; only have them differ from each other.
Warp are the lengthwise threads attached to a loom before weaving begins.
Weft is the term for the yarn which is shuttled back and forth across the warp to create a woven fabric. It can also be referred to as woof or fill.
If you don't fully understand the meaning of warp and weft, you can try the warp and weft definition pages.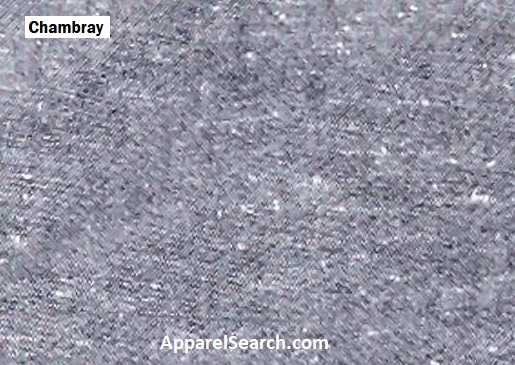 Chambray often comes in a high thread count, which means it's a finer weave & more breathable fabric. It is a fabulous blouse option for summer. Because this top is most often made in cotton, it will keep you cool in dry heat & humidity.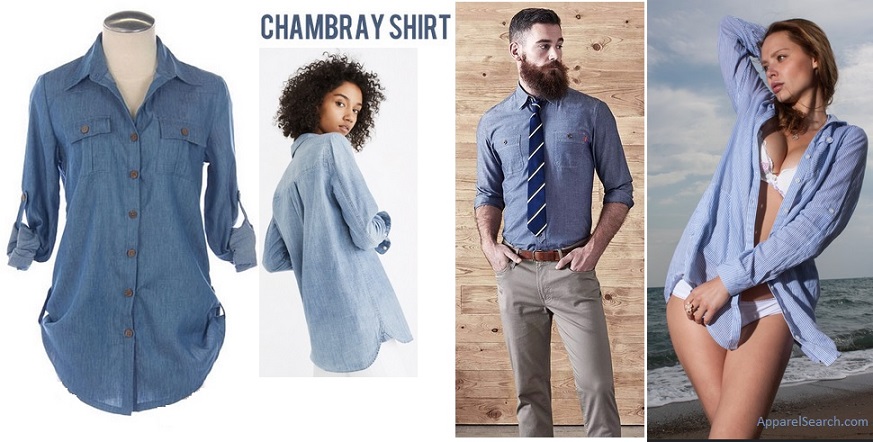 Long sleeve & short sleeve tops are common.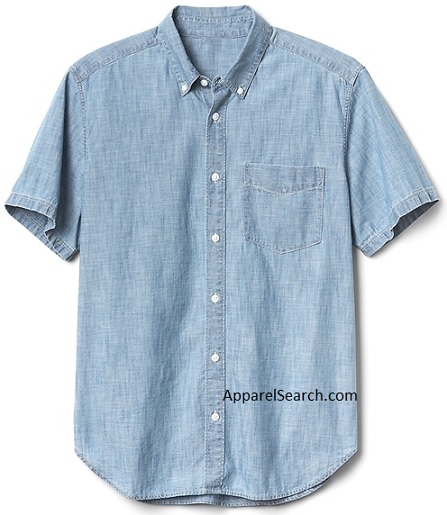 How to stylishly wear a chambray top?
An easygoing chambray shirt can do both dressy and laid back situations.
The combination of chambray blouse and blue denim trousers is just like a dual denim look. You can pair up your soft blue chambray top with a dark wash pair of jeans. Or keep the blues similar in shade but break the continuity of blue by wearing a different color belt.
Pair your chambray top with any of your brightly colored jeans.
Looking for a match made in heaven. Tuck it into a polka dot skirt. Dots and chambray go well.
Chambray tops are great for layering. Instead of a cardigan, wear a chambray shirt over your dress.
Chambray/denim blue unique enough to break the monotony of the white dress shirt. But the style is also classic enough to not be out of place if you are concerned about being too fashionable.
Chambray shirts can be worn tucked in or untucked.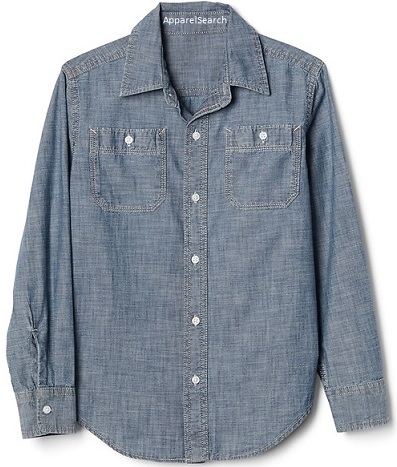 What is the difference between denim fabric and chambray fabric?
Typically, you will notice a lighter color to the underside of a denim fabric, whereas the underside of chambray will appear much more similar to its face side.
Chambray is a plain weave.
Denim is made with a colored yarn in the warp and white in the weft, but is woven in a twill weave construction.
The chambray's warp and weft threads will alternate one over the other, while denim's warp thread will go over two threads in the weft before going under one. Typically, you will notice a lighter color to the underside of a denim fabric, whereas the underside of chambray will appear much more similar to its face side. Both denim & chambray can be produced in heavy or light weight versions.
Plain weave (also called tabby weave, linen weave or taffeta weave) is the most basic of three fundamental types of textile weaves (along with satin weave and twill).

Twill is a type of textile weave with a pattern of diagonal parallel ribs (in contrast with a satin and plain weave).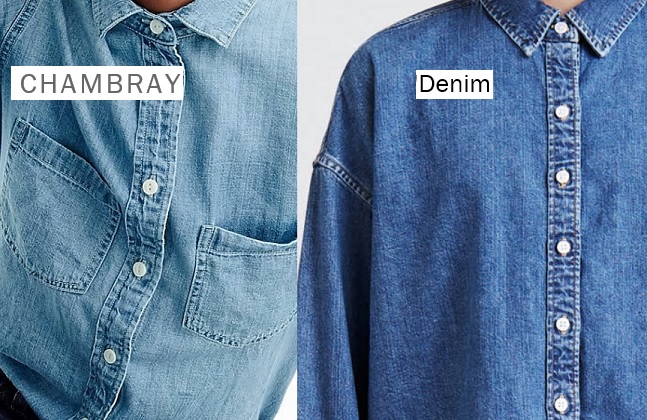 Chambray is not denim. Chambray is Chambray. Hard to tell the difference from the front of the fabric. Easy to notice when looking at the back side of the fabric. Again, denim will look more white on the backside then the front. The chambray shirts the back side will look very similar to the front of the fabric.

If you are interested, you can learn more about denim shirts.
You might find the following fashion blog posts to be of interest.
Chambray Crossback Culotte Jumpsuit
Kylie Jenner & Olivia Holt: Wearing Chambray Hats
Many clothing stores sell chambray shirts for men, women, and children.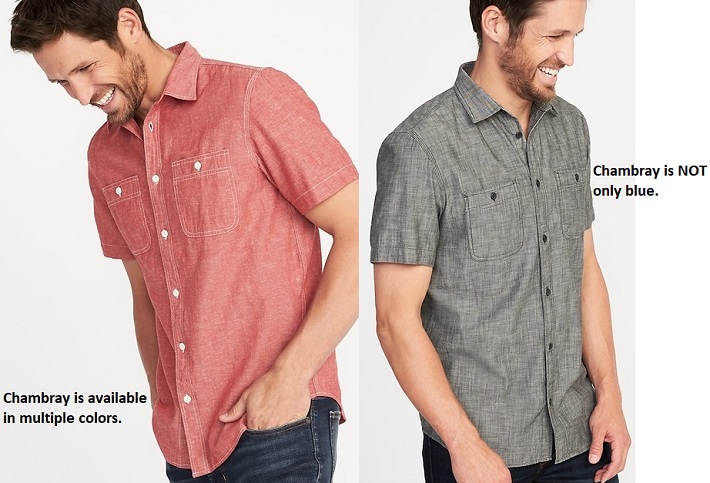 Some chambray shirts are embellished with printing, embroidery, sequins or other types of embellishments.
Here is an example of an embroidered chambray shirt.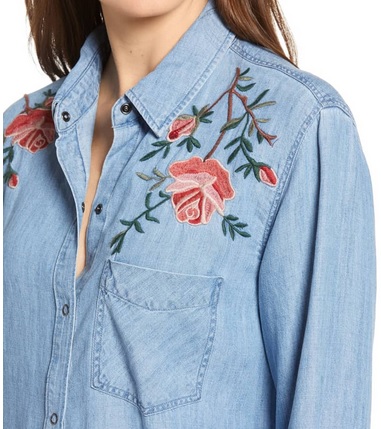 Chambray shirts are often used for fashion layering. Of all the layering combinations you can try out with your trusty chambray shirt with moto boots will always make it cooler. Lightweight sweaters, stylish socks, and chambray shirts all become necessities to creating a seasonally appropriate outfit.
Learn more about different types of shirts.
Learn about the benefits of cotton on the Fashion Blog.
Fashion Products Fashion Products A-F Fashion Products C
---
Are you a fashion influencer?

Copyright 1999-2022 Apparel Search Company. All Rights Reserved.