Denim Shirts
Denim is a sturdy cotton warp-faced textile in which the weft passes under two or more warp threads. This twill weaving produces a diagonal ribbing.
The denim shirt is a classic, versatile wardrobe staple that can be worn with a variety of bottoms. As a casual piece, the denim shirt is usually used to create casual yet chic outfits or to make structured pieces look more relaxed.
The most common denim is indigo denim, in which the warp thread is dyed, while the weft thread is left white. As a result of the warp-faced twill weaving, one side of the textile is dominated by the blue warp threads and the other side is dominated by the white weft threads. This causes blue jeans to be white on the inside. The indigo dyeing process, in which the core of the warp threads remains white, creates denim's signature fading characteristics.
Denim was originally dyed with a dye produced from the plant Indigofera tinctoria, but most denim today is dyed with synthetic indigo dye. In both cases, the yarn undergoes a repeated sequence of dipping and oxidation — the more dips, the stronger the color of the indigo.

After being made into an article of clothing, most denim articles are washed to make them softer and to reduce or eliminate shrinkage (which could cause the article to not fit properly after its owner washes it). This process is known as sanforization. In addition to being sanforized, "washed denim" is sometimes artificially distressed to produce a "worn" look.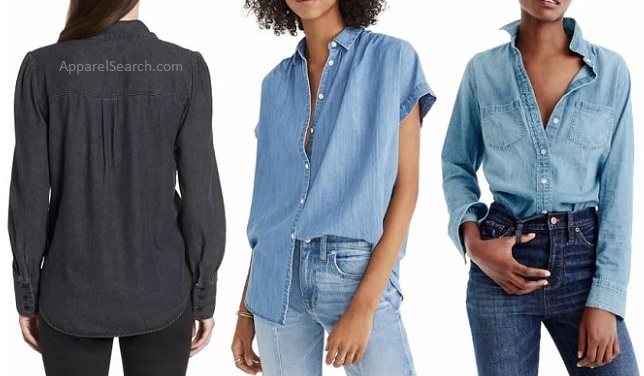 What is selvedge?
Selvedge denim refers to a unique type of selvedge that is made by passing one continuous cross-yarn (the weft) back and forth through the vertical warp beams. This is traditionally finished at both edges with a contrasting warp (most commonly red); that is why this type of denim is sometimes referred to as "red selvedge." This method of weaving the selvage is possible only when using a shuttle loom. Learn more about selvage denim.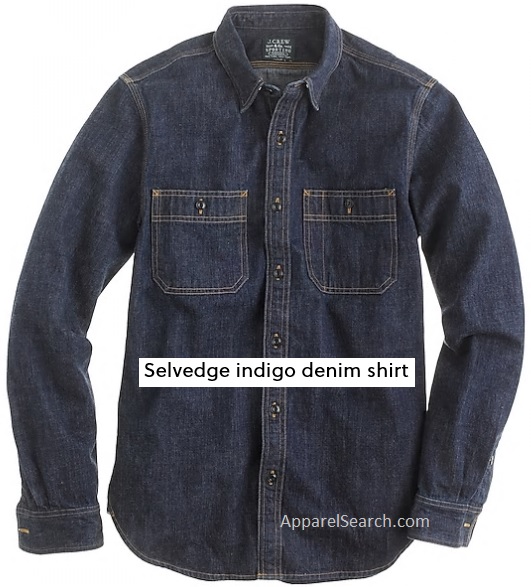 The above pictured selevedge indigo denim shirt is designed by J.Crew. Inspired by vintage workwear from the early 1900s, this heirloom-worthy shirt is made from a blend of premium selvedge cotton—a 10-ounce weight that feels as rugged as it looks—from one of Japan's oldest and most renowned mills. J.Crew Item 62202.
You can find denim shirts at many clothing stores. Below are a few of the numerous retailers that sell trendy denim tops.
Obviously, Levi's also sells denim shirts.
Denim tops are trendy for several reasons and numerous occasions. Keep in mind that the ruggedness of denim shirts make them appropriate for western wear as well as being trendy in New York City or Los Angeles.

Rugged denim shirts are great for cowboys or cowgirls.
Denim fabric has many similarities to chambray. However, they are entirely different. You may want to also learn about chambray shirts. Learn about the difference between chambray and denim.
Like shirts in general, there are many different variations. Color, styling, fabric finishes, and embellishments. Denim is incredibly versatile, you can team it with your brightest most cheerful accessories for a standout spring look or go with darker shades for a seasonal fall look.
You may want to also learn about denim skirts. They are both made of denim and it is marvelous that skirts rhymes with shirts.
Learn about additional shirt styles in our terminology section.
---
Well dressed fashionistas have an influence on fashion and on the world around them.
Fashion Products Fashion Products A-F Fashion Products D
---
Return to the Influence Fashion home page.

Copyright 1999-2022 Apparel Search Company. All Rights Reserved.