Welcome to the worlds greatest guide to women's denim shirts.
A shirt is a cloth garment for the upper body (from the neck to the waist).
The denim shirt is a classic, versatile wardrobe staple that can be worn with a variety of bottoms. As a casual piece, the denim shirt is usually used to create casual yet chic outfits or to make structured pieces look more relaxed.
Shirts come in a wide variety of styles. Most of which can be produced with denim fabric. The following to name a few.
Camp shirts
Henley Shirts
Tunics
Long Sleeve Shirts
Short Sleeve Shirts
As part of a fashion ensemble, denim shirts can convey both rough-and-tumble grittiness and refined, savvy artistry. In short, denim shirts are a great addition to your outfit in a wide range of environments - you'll never be sorry to have one in your closet.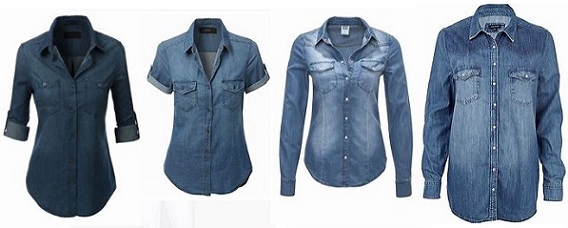 Denim is a sturdy cotton warp-faced textile in which the weft passes under two or more warp threads. This twill weaving produces a diagonal ribbing.
Denim is often blue like blue jeans but not always. This fabric can be dyed to a wide variety of color options. Black and blue tend to be most common.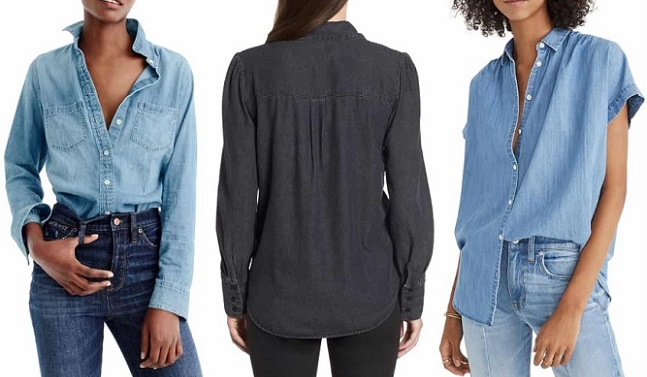 Learn more about denim shirts.
Learn more about women's denim clothing.
Apparel Search is a leading guide to fashion, style, clothing, glam and all things relevant to apparel. We hope that you find this women's denim shirt page to be helpful.
What ever type of shirt you are wearing is in fashion this week for sure. Clearly, you are a trend setter.
If you want to be even more stylish, you should wear your favorite denim top today.
You may also want to learn about denim pants.

Learn about different types of shirts in our terminology section.
Thank you for using the Apparel Search website.