Dillard's, Inc. ranks among the nation's largest fashion apparel and home furnishings retailers with annual revenues exceeding $7.7 billion. The Company focuses on delivering maximum fashion and value to its shoppers by offering compelling apparel and home selections complemented by exceptional customer care. Dillard's stores offer a broad selection of merchandise and feature products from both national and exclusive brand sources. The Company operates approximately 330 Dillard's locations spanning 29 states, all with one nameplate - Dillard's.

William Dillard, the founder and Chairman of Dillard's, Inc., developed a keen interest in retailing at an early age. He started his success story in 1938 when, with $8,000 borrowed from his father, he opened a small store in his wife's hometown of Nashville, Arkansas. By that time, he had better than 12 years of part-time and summer experience working in his father's Mineral Springs, Arkansas store. After completing college (University of Arkansas-1935) and graduate school (Columbia University School of Business-1937), Mr. Dillard began working as a management trainee for Sears Roebuck & Company. Shortly after completing the training course, a period of only seven months, Mr. Dillard left Sears and opened his first store.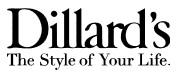 Even in the beginning, Mr. Dillard was well aware of the value of effective advertising in building a business. With each move/expansion, the company has stressed value in its advertising. Aside from a short period during World War II, the Company continued operating and expanding its Nashville location. In 1948, Dillard, looking for more growth prospects, sold the Nashville store and used the money, along with some outside financing, to buy controlling interest in a Texarkana (AR,TX) store. His competitive strategy was to offer attractively priced national name brand merchandise along with customer credit. By 1953, it was the leading store in Texarkana. From Texarkana, Dillard expanded to Tyler, Texas in 1956 with the purchase of an existing store. In early 1960 he entered into a similar transaction for a Tulsa, Oklahoma store which was twice the size of the now thriving Tyler operation. Like his other acquisitions, he was quick to make it profitable and to pay down acquisition-related debt.
The department store operator opened his first store in a shopping mall in 1964 in Austin, TX, a decision which proved to have significant implications in the chain's future growth strategy. One of the cornerstones of Dillard's philosophy is that location is the key to success. Meanwhile, the Company had established a credit subsidiary, purchased two central Arkansas department store chains, relocated its headquarters to Little Rock, Arkansas, implemented a centralized computer system, realigned its capital structure and used its existing store base as a vehicle for expansion into mall locations. Throughout the late sixties and beyond, this aggressive mall expansion would continue.
In 1969, Dillard Department Stores, Inc. went public, offering its Class A Common Stock to eager investors for the first time on May 9. By the early 1970's, the chain had moved into Louisiana, Missouri and New Mexico and had expanded its presence in Texas, Arkansas, and Oklahoma, thus necessitating a divisional organization within the parent company. In 1974, the purchase of five stores from Tandy's Leonard's Division gave Dillard a strong foothold in the Dallas/fort Worth market.

Further consolidation in the department store industry made possible for Dillard many smaller acquisitions until 1983. Then, just five days after announcing the second two- for-one stock split, Dillard's announced the acquisition of Stix, Baer & Fuller, consisting of 12 stores located in the St. Louis and Kansas City areas. In 1984, two department store divisions were purchased from Dayton Hudson, adding stores in Oklahoma, Arizona and Nevada. 1986 was marked by the acquisition of 12 stores in the Midwest from R.H. Macy. In 1987, 27 units were purchased from Joske's and three from Cain-Sloan. In 1988, Dillard's purchased a ½ interest in 12 Higbee Department Stores located in Ohio. The D.H. Holmes company was purchased in 1989, consisting of 18 units in the south. The following year the J.B. Ivey chain was purchased, 23 stores spanning North Carolina, South Carolina, and Florida.
In 1991, the last storewide sales event was eliminated as Dillard's moved to a more balanced pricing approach. This pricing strategy was designed to help create loyalty and confidence among Dillard's customers. The year was also marked with the acquisition of 7 Maison Blanche stores in northern and western Florida.
Acquisition activity slowed from 1992 to 1997, as properties became less available. The Company turned its focus to construction and expansion, constructing over 60 stores. In 1997, Dillard's again entered the acquisition arena and purchased ten Mervyn's stores in Florida, seven Proffitt's locations in Virginia, and three Macy's stores in Houston, Texas.
On May 18, 1998, Dillard's announced a tender offer for the acquisition of Mercantile Stores Company, Inc., a chain of 103 traditional stores based near Cincinnati, Ohio. The acquisition, the largest in the history of the Company, was completed on August 18. After strategic sales and swaps of stores, mainly in overlapping markets, the Company retained approximately 75 of the former Mercantile locations.
On February 8, 2002, William T. Dillard passed away leaving a legacy of tremendous success in retailing.
Today, a major part of Dillard's marketing philosophy remains based on Mr. Dillard's sound selling methods, keen attention of day-to-day organizational details, alert selection of personnel and hard work. Presently, the chain consists of approximately 330 stores spanning 29 states, all operating under the name Dillard's - the largest nameplate in fashion apparel retailing.