Have you heard about the Big E red tab? Maybe you are wondering what everyone is talking about. In regard to vintage jeans, the Big "E" refers to Levi jeans that were manufactured before 1971. Actually, they were used between 1936 to 1971 (not sure what month they started and stopped).
That trademark is officially known as the "Tab Device." You may know it as or call it "the red Tab" found near the back pocket on Levi jeans.
1936 The red Tab is first placed onto the right back pocket of the overalls. The word "Levi's® is stitched in white in all capital letters on one side only. The Tab is created to differentiate Levi's® overalls from the many competitors in the marketplace who were using dark denim and an Arcuate stitch.


1971 The word "Levi's® on the red Tab device is now stitched in white with a capital "L" only; the "E" looks like it changed, leading to the vintage clothing concept of "Big E" and "little e." This was done to conform to the company's new housemark – the "batwing" – which was adopted in 1967 and in which the word "Levi's" is meant to be the proper name of our founder, Levi Strauss.
It the tab device was first used in 1936 (and LEVI'S was spelled with all upper case letters), but let's first discuss the story of why it was needed. Levi Strauss & Co. and tailor Jacob Davis received a U.S. patent to make riveted denim pants in 1873. Unfortunately, patents don't last forever. In 1890, the patent went into the public domain which meant competitors could start using rivets on pants to provide extra durability. Brands such as Stronghold, Can't Bust 'Em, Boss of the Road and others started flooding the western market with dark blue, riveted denim jeans, which also happened to have a leather patch on the waistband and pocket stitching that was suspiciously similar to the Levi's Arcuate stitching design.
In 1936, the company figured out a way to make it easier for consumers to find authentic Levi's. The company decided on a folded cloth ribbon in the structural seam of a rear patch pocket. The word LEVI'S® was woven in white on the red ribbon and it was sewn onto the right back pocket of the 501® jeans.
The Tab Device was registered as a trademark, and in 1938 it was first used on Levi's® jackets. Beginning in the early 1960s the Tab Device color moved beyond red to white, orange, black, and silver. These represented different lines of clothing, from corduroy flares to boot cut jeans to womenswear.
The famous Big E tab. The (R) on the tab also denotes jeans Regular more common little e tab. that were made after 1950 - When the ® started to appear as Levi's red tab had became a registered trademark.
Big E tab AND without Rivets
By 1966, technology had caught up with history, and it was possible to bar tack the 501® Jean's back pockets, replacing the back pocket rivets. This small change maintained the jean's notorious durability, while finally solving that decades-long issue of the exposed rivets scratching up furniture. This particular style of 501® Jean—with bar tacks and a big "E" red Tab—only existed from 1966 to 1971.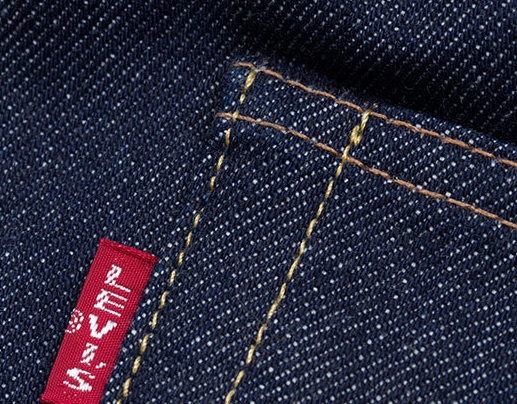 Above image from Levi's website.
A rounded top block and tapered leg, made from Cone Mills 12 oz. red selvedge denim. Featuring two back pockets with bar tacks instead of rivets (unique to years 1966-1971), Two Horse leather-like patch, twin needle Arcuate, big "E" double sided Red Tab.
See the modern version with Levi's lower case e red tab. (photo Apparel Search took June 2017)
Explore Levi's to learn more about the Levi's red tab.
Obviously, if you are shopping for authentic vintage Levi's from before 1971, you would have to look for additional identifying features. However, it gets tricky because counterfeiters know the identifying marks as well.
Copyright © 1999-2023 Apparel Search Company. All Rights Reserved.