OptiTex™ specializes in the development of innovative, easy-to-operate 2D and 3D Fashion Design Software. Their Microsoft Windows™ based Fashion Design Software packages for digitizing, pattern engineering, grading, marking, and advanced automatic nesting are specifically designed to meet the needs of today`s manufacturers of industrial fabrics, apparel, upholstery, transportation, composites, home furnishings, and other sewn products.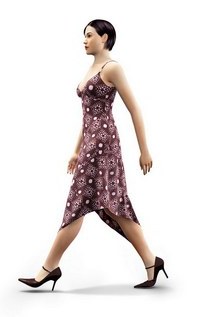 OptiTex™ open architecture system comes amply equipped with a multitude of import/export formats enabling OptiTex™ users to interface with a wide range of software and hardware. Customers enjoy the benefits of selecting hardware that fits their company`s needs in terms of performance and price. OptiTex™ also offers the convenient option of purchasing a completely integrated CAD package including OptiTex™ software solutions, digitizer, and pen or ink jet plotter.
OptiTex™ Fashion Design Software products are sold and supported around the world through certified distributors and OEM's. OptiTex™ Fashion Design Software solutions are currently available in nineteen languages, with more to come.
OptiTex LTD has more than 20,000 installations worldwide. They are proud to include: ATSI, Best Manufacturing, Cherokee Uniforms, Oxford Industries - Li & Fung, US Army and US Navy, Target Corporation, The Marena Group, Land's End, Kohl's, COACH Leather, ABS by Allen Schwartz, Teamwork Apparel, Brooks Sports, Gildan, Parachute De France, Tyco Toys; Aeronautics companies, Birdair, Boeing, Eurocopter, Irvine Aerospace to name a few. In the Automotive industry, companies include BMW, Porsche and Toyota, Audi, Johnson Controls, Prevent and many more among our list of satisfied customers.
Learn more about OptiTex
ML112007
A Few of the Fashion Technology Articles Regarding Optitex:
Optitex Multi Language Interface For Fashion Designers
Fashion Technology Article Posted October 15, 2008
OptiTex 3D Technology Expert to Speak at NVISION 2008
Fashion Technology Article Posted August 14, 2008
OptiTex and NVIDIA: A Graphically Green Partnership Fashion Technology Article Posted July 10, 2008
OptiTex to Leverage NVIDIA Technologies in Cooperative Venture
Fashion Technology Article Posted June 17, 2008
OptiTex Packs Even More Features into its 3D Runway Designer 10 Fashion Technology Article Posted May 28, 2008
OptiTex and Kathy Heyndels Partner for Afroditian Elegance
Fashion Technology Article Posted April 29, 2008
OptiTex Inks Partnership with Luidi While Expanding Its Worldwide Network Fashion Technology Article Posted April 10, 2008
Optitex Designs in Green
Fashion Technology Article Posted March 25, 2008

Dynamic Fashion Delivered by Nolcha and Optitex
Fashion Technology Article Posted March 12, 2008
OptiTex, the Israel Textile & Fashion Association and the Peres Center for Peace Have Designs on Peace
Fashion Technology Article Posted February 25, 2008