OptiTex, the industry leader in 2D/3D CAD/cAM design technology for cut-fabric related industries, has made its best-of-breed software even better by enhancing one of its core products, 3D Runway Designer 10, with remote collaboration tools.
We've integrated several new features into Runway 10 to smooth the collaboration between designers and production professionals, states Ran Machtinger, President and CEO of OptiTex, Ltd. Chief among the improvements is an open chat room, which allows production and image files in 2D and 3D to be sent between partners participating in the design process. They can then easily modify these images using our new chalk tool, allowing design and production staff to draft on-screen together, in real time from remote locations.
These new and upgraded features represent another step forward in the OptiTex revolution, allowing virtually all of the design process to be performed digitally.
3D Runway Designer 10 has new customizable features and options, allowing designers the freedom to change textures, materials, colors and stitches or add logos on screen without using a single piece of fabric. The garment can then be seen
in action on OptiTex's 3D models, all of which are fully adjustable to reflect any body type.
OptiTex's on-screen environment is customizable to enhance the designer's creative process. The accuracy of the images eliminates material, energy and time waste, providing rapid ROI as well as an environmentally friendly application.
The new, collaborative features in 3D Runway Designer 10 dovetail perfectly with another area in which OptiTex has experienced a surge in growth: Utilization as an essential learning tool in educational settings, ranging from renowned universities to vocational training centers.
Over the last two years We've seen phenomenal acceptance of our software worldwide by major educational institutions. They need to provide their students with a strong background in the latest design tools, allowing them to be immediately employable upon graduation. Now, instructors can work remotely with students in an e-learning environment to ensure their projects are viable as they prepare to enter the workforce,
concludes Machtinger.
<![if !vml]>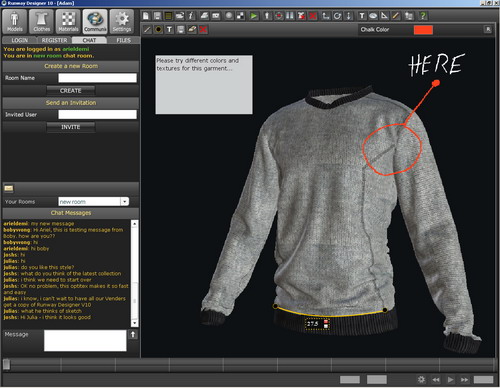 <![endif]>
Screen capture of 3D Runway Designer 10, Sketcher and Communication Tools.
About OptiTex
OptiTex specializes in the development of innovative, easy-to-operate 2D and 3D CAD/cAM solutions for sewn products and other related industries. Our native Windows-based software for digitizing, pattern engineering, grading, marking, advanced automatic nesting and draping, is specifically designed to meet the needs of today's manufacturers of industrial fabrics, apparel, upholstery, transportation, composites, home furnishings, among others. OptiTex's open architecture system features multitude of import/export formats, enabling OptiTex users to interface with a wide range of software and hardware. OptiTex also offers a completely integrated CAD package. OptiTex products are available in more than 20 languages and are sold and supported around the world through certified distributors and OEMs.
Learn more about OptiTex.