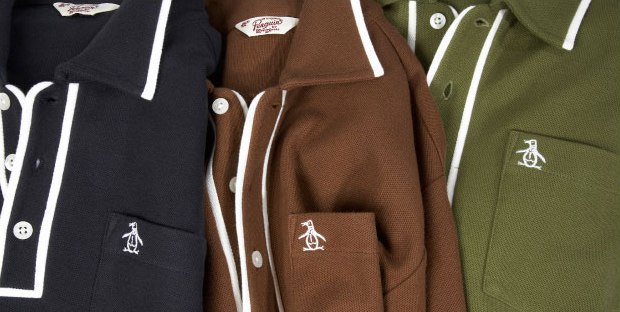 In 1955, Minneapolis-based Munsingwear – an underwear and military supply company – ironically became the touchstone of suburban sport with the introduction of the first iconic golf shirt to America – an ORIGINAL PENGUIN®. The now famous ORIGINAL PENGUIN logo has an interesting story behind it. As history tells us, one of Munsingwear's salesmen spotted a flock of penguins in the window of a New York taxidermist – and on what seems like a lark, bought one of the stuffed birds. And before long, "Pete" the penguin became the official mascot and logo of golf shirts. Its first shirt – the 1955, was an instant golf classic, first to feature an "action gusset" or a ribbed slice of fabric on the underarm to avoid rips during even the most enthusiastic golf swing.

an ORIGINAL PENGUIN® by Munsingwear became a staple among the masters of suburban leisure well into the 1980s – worn by the likes of Arnold Palmer, Bob Hope, Bing Crosby and Richard Nixon. In 2003, an ORIGINAL PENGUIN® was recreated by a group of people who love great style and smart clothing.
Perry Ellis International is a leading licensor, designer and marketer of high quality menswear, including sport and dress shirts, golf sports-wear, sweaters, casual and dress pants and shorts to all levels of retail distribution.
The Company owns or licenses the brand names under which most of our products are sold. Our portfolio of brand names includes Perry Ellis®, John Henry®, Axis®, Manhattan®, PING® and Mondo di Marco® for dress casual wear, Cubavera®, the Havanera Co.®, Natural Issue®, Munsingwear®, Farah®, Savane®, Tricots St. Raphael®, and Grand Slam® for casual sportswear, Perry Ellis America® and Natural Issue® for jeans wear, PING®, Perry Ellis® and Munsingwear® for golf sportswear, Pro Player® and Perry Ellis America® for active wear, and Jantzen®, Southpoint®, and Nike® brands for swimwear and swimwear accessories.
Perry Ellis International is a leading international marketer of apparel, offering a diverse portfolio of brands through multiple distribution channels.

If you are interested in working at this excellent apparel industry leader, you can search for fashion careers at Perry Ellis.