It was Twenty Years Ago Today. The vintage Fashion Expo celebrates 20 years Of a love affair with fashions of the past!
Like a beloved coat or a treasured handbag, it seems the Vintage Fashion Expo has been around forever. But the first Expo took place in 1988, twenty years ago.
What was playing at the movies in 1988? The Last Emperor won the Oscar for the best Movie; Cher wearing Bob Mackie won as Best Actress for Moonstruck. Paul Simon won the Grammy for Graceland. The Beatles, Bob Dylan and the Supremes were inducted into the Rock n Roll Hall of fame.
And what was in our closets? Fresh from the store, brand new pre-ripped acid washed jeans. Hawaiian shirts, denim jackets, leather motorcycle jackets, aviator sunglasses and unlaced sneakers. The pout, born in 1987, died in 1988 (pouf originator Christian Lacroix could barely mask an expression of glazed disbelief as he regarded multitudes of women, most, to put it politely, of a certain age, turning the pouf into a parody of style: The New York Time).
And even then, in 1988, some designers were already looking to the past for what the times called simplicity in the shapes, luxury in the details: Karl Lagerfeld at Chanel, Armani, Ralph Lauren, Donna Karan (full of Chanelisms The New York Times). The Times also advised 1988 fashion fans to watch Isaac Mizrahi and Marc Jacobs, both in their mid-20's and enormously gifted.
Visitors to the 2008 Vintage Fashion Expo will revisit those thrilling days of yesteryear not only 1988, but yester-years spanning the late 19th- 20th centuries. Knowledgeable buyers include fashion designers, movie costumers, stylists, the fashion press and well-dressed women ranging from movie stars Looking for their next Red Carpet dress to anonymous size-zero Angelenos. As always, there is something from every era and for every price range.

The upcoming Vintage Fashion Expo will take place May 10th-11th and in recognition of Mothers Day, the Mother of a group buying tickets to the show will be honored with free admission. A live vintage fashion show will be presented each day. Women will be modeling a timeline of fashions and various items of national and world events that paralleled the fashions of the day will be presented. Also at this show, Lauren Rennells will be present to sign her new book on the techniques of vintage hairstyling. For directions to the show and a coupon for $2.00 off admission, visit the website at http://www.vintageexpo.com/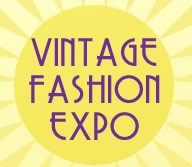 Come to the Santa Monica Vintage Expo! Saturday May 10th, 10:30 am - 6:00 pm Sunday May 11th, 11:00 am - 5:00 pm Santa Monica Civic Auditorium 1855 Main St. Santa Monica, Ca. 90401
You are welcome to further discuss these fashion events at the Fashion Industry Network.