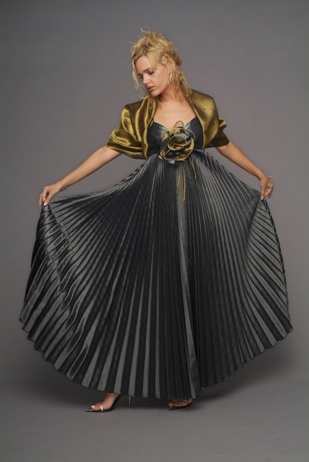 Visionary designer Gordana Radic will present her latest couture fashion collection on Friday, February 9, 2007 at 6:00 p.m. Part of Couture Fashion Week, the fashion show will be held at the world-famous Waldorf-astoria, Empire Room, 301 Park Avenue (between 49th and 50th Streets), New York City.
A highly creative juxtaposition of technical expertise and her signature fashion design philosophy of "disguised sensuality", Ms. Radic's Autumn/winter 2007 collection is entitled "Magic Night" and is dedicated to woman in love: her everlasting wish to conquer and aspiration to be conquered. Black, black and black again; color of the night, color of the universe and color of the secret. Glittering gold detailing represents the reflection of her inner glow, the spark of hidden fire in the magic night. Lines of dresses follow the natural beauty and variety of the female silhouette. Lines range from clear and tough to soft and flattering, from strictly professional to young and playful, all with the single purpose of highlighting the wearer's own unique image. fabrics are selectively chosen according to the concept of the design. Silks, taffetas, and both soft and bold satins combine with organza and lace in an array of creative design options. Touches of pliss, ruffles or unexpected structures contribute to the richness of certain ensembles along with custom accessories. A few garments, like suit jackets and coats, are made of high quality wool cloth.
Golden embroidery elevates the entire collection, hand crafted onto dresses and replicating original Croatian national costume embroidery patterns. These distinctive designs originated in Slavonia, the western region of Croatia, where exquisite embroidery has flourished over many centuries. Ms. Radic, who has a passion for the preservation of Croatian heritage and costume traditions, has taken traditional rural motifs and integrated them into designs that carry a new urban spirit and sophisticated elegance. This concept is the foundation for Ms. Radic's participation in the "Future of the Past" project sponsored by UNESCO in which the designer is working to preserve cultural identity in the new global world order.
"In this collection, I am exploring the complex emotions of a woman in love," says the designer. "The sweet war within happy, energetic and rapturous on one side, and vulnerable, confused and somewhat insecure on the other. But she is sure in one thing: being irresistible and seductive... walking in the clouds, she is ready to become the queen of the magic night."
A native of Croatia, Gordana Radic originally studied to be a veterinarian, earning a degree in Biology from the University of Zagreb. Her focus soon turned to fashion, however, and in 1989 she opened her flagship boutique in Split, specializing in custom designs. Since then, Ms. Radic has continued her steady ascent in the fashion field, participating in such events as Couture Fashion Week New York, IGEDO in Dussledorf, Prestige in Dubai, Vancouver Fashion Week in Canada, and International Fashion Festival 3000 in Pula. She has lent her formidable talents to such projects as the "Croatian Woman" series of fashion shows across the United States to raise funds for equipment for Croatian hospitals; an exclusive fashion show for FIFA members and VIP guests during the World Cup festivities in 1998 in Vittel, France; and "Paris in Split", which included a fashion show by Parisian couturier Izet Curi. Ms. Radic has been the official designer of several Croatian beauty pageants, and the recipient of the "Golden Flower" award at the prestigious "Euro Top Fashion" event. Ms. Radic has also been a fashion columnist and critic.
Gordana Radic's designs are sold in fine stores in Italy, France, Austria, the United Arab Emirates, Qatar, Croatia, Bosnia and Herzogovina, and Serbia.
USA International Fashion Shows, created by Andres Aquino, produces an exciting series of runway fashion shows year round featuring both national and international designers of couture and finely tailored garments and distinctive accessories. Collections are presented in beautiful settings in New York City before audiences of VIPs, the international press and upscale fashion and boutique buyers. Events are co-sponsored by Fashion Syndicate Press, founded in 1997, and serving the press with photos and feature articles covering fashion shows in all major fashion capitals. Its web site, www.fashionshowroom.com is one of the most visited fashion portals on the internet.