aleXsandro Palombo under licence from the French company L
ARSOIE
from Marilyn Monroe to the QUEEN SOFIA of Spain today, the actress CATHERINE DENEUVE and showgirls like DITA VON TEESE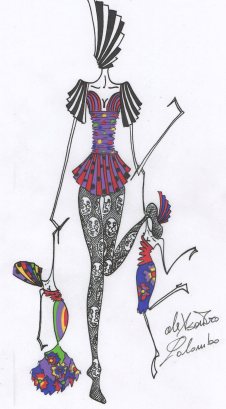 The French manufacturer L'ARSOIE, world leader since 1920 in the production of couture and Fully Fashioned haute couture stockings and tights with the "CERVIN Paris" brand, has the pleasure of announcing the launch of its new collection, "aleXsandro Palombo by CERVIN Paris" haute fashion stockings and pantyhose set to debut in autumn/winter 2008/9. The outstanding talent and imagination of the Italian designer from Apulia, aleXsandro Palombo, are merged with the unique and refined savoir-faire which has always distinguished the French "CERVIN Paris" brand, synonymous with luxury and exclusiveness.
Serge Massal, president and general manager of L ARSOIE, declared: aleXsandro Palombo is a gifted creative capable of combining elegance and modernity with a strong artistic spirit and a fantastic sense of color, the right combination to create exclusive garments which are symbols of modern femininity.
L'ARSOIE was founded in 1920. It has supplied European royalty with elegant stockings, a story that has passed down through 3 generations and still today preserves the secrets of an ancient and unique art out of respect for tradition and outstanding quality.
Many famous personages of past and present wear CERVIN Paris products: from Marilyn Monroe to the QUEEN SOFIA of Spain today, the actress CATHERINE DENEUVE and showgirls like DITA VON TEESE: CERVIN Paris produced stockings specially for her performance at the Crazy Horse.

I am honored to join CERVIN Paris, the skill and the long history of L
ARSOIE are a great source of cultural enrichment, a unique opportunity to create fetish collections devoted to the art of seduction, making one of the symbols of femininity a luxury accessory,
declared aleXsandro Palombo.
The key to CERVIn's success is the rare elegance of its products which represent sheer luxury. CERVIN is 100% made in France, distinguished for its high quality and its "Fully Fashioned Authentiques Bas legwear", the famed stockings worn by Marilyn Monroe made using an ancient technology that makes it possible to knit the stocking in the form of the leg on machinery from the early 1900s which only L'ARSOIE possesses today. This is a feature that enables the firm to create stockings that are real works of art. The excellence of the workmanship of these rare luxury products make CERVIN Paris the world leader in this field with its distinctively French elegance. The distribution of the collection "aleXsandro Palombo by CERVIN Paris" will be tightly focused and exclusive, reserved for an up-market clientele who will find the elegant stockings in select luxury multi-brand shops and prestigious international department stores. The collections will include Fully Fashioned stockings, hold-ups, pantyhose, above the knee stockings and leggings. Their crafted elegance, design, precious embroideries, high quality cashmere and silk weaves will make each creation a luxury haute couture accessory that will be presented in refined bijou packaging as a tribute to femininity.
aleXsandro Palombo
10 years anniversary
1998-2008
Born in Italy on December 5, 1973, of Apulian origin, when he was 19 aleXsandro Palombo moved to Milan where he studied fashion design at the Istituto di Moda Marangoni. In 1998 he created his own brand: aleXsandro Palombo, with the capital X and the P standing for the Latin symbol Pax Christi. He presented his collections of women's fashions in Milan and soon became the founder of an Italian avant-garde which anticipated and launched trends later taken up by the fashion system. Memorable features of his style are religious symbols like XP Pax Christi embroidered or inlaid in garments, knitwear and T-shirts, the images of Padre Pio and Mother Teresa of Calcutta embroidered on overcoats or exalting a new spirituality on T-shirts, the fashion shows against anorexia to raise public awareness and enable it to understand a problem that troubles thousands of young women, his multicultural collections inspired by his homeland Salento and the globalized world; his shows inspired by the women of the south and the Taranta dance have enabled the general public to discover the phenomenon of the traditional Pizzica, an ancient ritual dance of Salento imbued with mysticism; his adoption and use of the KEFIHA which is embroidered and used as a fabric to create luxury garments which enchant Arab princesses and buyers like the Majed Al Sabah of Villa Moda. aleXsandro Palombo has established new boundaries in hosiery by using yarn to create garments as if they were precious furs, with frayed techniques and original finishes promoting an idea of craftsmanship and the consecration of fashion tricot. The New York Times has described him as a knitwear talent, the pop star Sheryl Crowe is a fan of his refined Palombo pullovers and wears fashion items at concerts and TV appearances. Some of his elegant knitwear was photographed by Mario Sorrenti for hot features in the British Another Magazine. Palombo has been creative director for brands like ANNAPURNA, AIDA BARNI men's and women's wear, styling intensely elegant and imaginative collections. He continues to experiment in this field. Among the most recent lines created by the designer are
aleXsandro Palombo by CERVIN Paris
, devoted to haute couture stockings.
The designer has entries in various fashion books, among them the "Dizionario della Moda" by Guido Vergani Baldini Castoldi Dalai Editore, Skira's "Virus Moda" by Francesca Alfano Miglietti, in America in "Fashion Statements" and in France in "Le Choc du Chic", a collection of interviews which explore the private lives of important international designers, including the stylist aleXsandro Palombo with his creative history which mingles innovation, experimentation, provocation and tradition.