The newly launched site of BalzacClothing.com fulfills the need of petite women to have trendy, fashionable clothing without compromise. Its debut collection for Spring/Summer 2008, features fashionable
petite women's clothing
for the working woman who wants stylish social clothing for activities outside of work. The styles of this collection were designed to make a petite woman feel sexy and comfortable at the same time.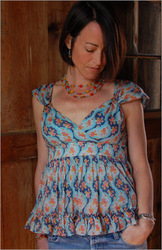 balzac clothing
Interestingly enough, 40 percent of American women are 5'4" or less in height. Yet, the clothing manufacturers have neglected the petite clothing market. Many department stores have either eliminated their petite department or their petite presence seems to lack variety and a contemporary approach to style. Even the upscale boutiques do not carry
women's petite clothing
. Balzac Clothing hopes to bridge that gap and provide contemporary petite women's clothing.
Balzac Clothing is the brain child of Orange County, California designer Lynn Colclough. As a petite woman herself, she knows what a struggle it is to find well fitting clothing for not just the short woman, but a petite woman who has curves. Especially after she had her two children, Colclough realized if she wanted women's sexy petite clothing, she needed to make it herself, just like she did years ago as a teenager.
Colclough started her design career in high school by making her own clothes. She used to go through the clothing racks at thrift stores and buy large items, then open them up and draw her own patterns on them. Her outfits were one-of-a-kind and fitted to perfection. From this passion for quality and style for the petite woman came the idea of Balzac Clothing.
"We strive to push a bit beyond the basic and hope to enhance the petite woman's wardrobe. We believe that the petite woman should have many options for any occasion. So whether you're a size 0 or 10, the petite woman should be able to express her special style without sacrificing fit, or creativity. Our style of clothes is yours to represent the best of you and how you want to be seen," said Colclough.
Balzac Clothing's goal is to become a leading brand of contemporary fashion for petite women worldwide. Future plans for expansion include a petite maternity and active wear line for petite women. The company also plans to be in clothing boutiques in the United States and around the world.
About Balzac Clothing:

Located in Orange County, California, Balzac Clothing features contemporary clothing designed to fit real petite women who are as unique as the clothing they choose to wear.
The company believes in returning its share of successes back into our world. Part of the company's profits is donated to various charities within the United States and internationally.