Apparel Search is pleased to provide you a glimpse at the Marc Le bihan Spring / Summer 2010 Collection. As Marc is one of our favorite designers, it is our pleasure to present to you the fashion images below.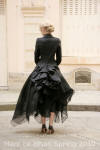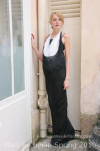 Images by one of the worlds leading fashion photographers C
cile Guyenne.
Learn more about Marc Le bihan.

View more Marc Le bihan fashion photos at the Fashion Week Photos website.
View the Marc Le bihan official website.
Check out the Marc Le bihan profile page here on Apparel Search.

Marc Le bihan Participated at Barbie Exhibition in Paris : Barbie's 50th Birthday
Fashion Article Posted April 29, 2009
Marc Le bihan Launches Second Ready-to-wear Line : Korda di Marc Le bihan
Fashion Article Posted May 7, 2008
Follow Apparel Search on Twitter
Follow Apparel Search on Youtube
Women's Fashion Brands Men's Fashion Brands Children's Fashion Brands

2009 Fashion Articles - January 2009 Fashion Articles, February 2009 News, March 2009 Articles, April 2009 Apparel News, May 2009 Apparel News Articles, June 2009 Fashion News Article, July 2009 Fashion News Article, August 2009 Fashion News Articles, September 2009 Fashion News, October 2009 Fashion Articles, November 2009 Fashion News Articles, December 2009 Fashion Articles
Search for additional information about Apparel, Fashion or Clothing.