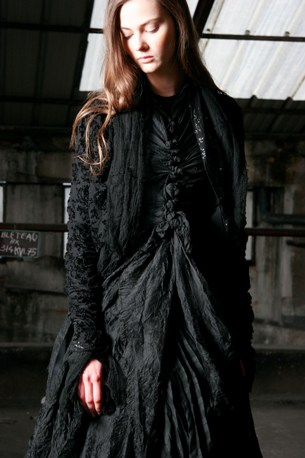 Le lange et le linceul The swaddling cloth and the shroud
The first and last garnments. The theme of one of his earliest collections is also the name of the company that Marc Le bihan founded in 1991. Like a dark winter sky biting into the virginal purity of a field of snow, this Parisian designer likes his horizons to oscillate between alpha and omega, art and fashion, and prefers taking one step forward and one step back the better to see a single reality through two different prisms.
The practice of making clothes lends itself to the play of light and shadows enveloping the fine black and white muslins and the long, silver, flowing dresses which glide over hips showing exceptional cutting skill.

The combat dress and heavy boots which look like they come from military surplus remind us, if it is needed, that fashion also permits disturbed dreams.
The customization of a vintage piece or the interpretation of new material have the same intention: trained in the ancient art of tapestry weaving at the Manufacture des Gobelins from 1982 to 1986, then working as a tapestry weaver until 1990. Marc Le bihan cannot handle fabric without giving it some of the added soul that is so lacking in industrial materials. A part of the collections is offered as one-off pieces cut from old garments, dinner suits or uniforms, selected for the quality of the original. A permanent feature in a highly coherent career supported by solid training: at the textile design section of the Ecole nationale supérieure des Arts décoratifs, presenting two collections from 1990 onwards, then at the Central Saint Martins College of Art and Design in London in 1993. On his return to France, the Festival international des arts de la mode at Hyeres awarded him their special prize for his collection of spectacular dresses cut from mail bags and old linen sheets. The following year, the ANDAM bursary enabled him to create his own label.
« Lange et Linceul » produces 2000 ready-to-wear and 1000 couture line pieces every year.. As an artist-artisan-designer, Marc Le bihan has accomplished the difficult task of developing a highly personal, profound and oniric universe without conforming to the constraints of commercial fashion.
Fashion Designers » Fashion Designers by Name » Marc Le bihan

View the Marc Le bihan official website.
Learn more about Marc Le bihan