Women's Haute Couture is relatively expensive & highly fashionable clothes, footwear or accessories produced by leading fashion houses.
Can any fashion designer produce haute couture fashion? Sorry, the answer would be "no". It is a short and very specific list of fashion designers that can create true "haute couture".
In France, the term haute couture is protected by law and is defined by the Chambre de commerce et d'industrie de Paris based in Paris. The chambre syndicale de la haute couture is defined as "the regulating commission that determines which fashion houses are eligible to be true haute couture houses". Their rules state that only "those companies mentioned on the list drawn up each year by a commission domiciled at the Ministry for Industry are entitled to avail themselves" of the label haute couture.
The words haute couture is French for "high sewing" or "high dressmaking" or "high fashion". More specifically, "Couture" translates literally from French as "dressmaking" but may also refer to fashion, sewing, or needlework. "Haute" translates literally to "high".
Women's haute couture is the creation of exclusive custom-fitted clothing. Haute couture is high-end fashion that is constructed by hand from start to finish, made from high-quality, expensive, often unusual fabric and sewn with extreme attention to detail and finished by the most experienced and capable sewers - often using time-consuming, hand-executed techniques.
Learn more about Haute Couture in our fashion terminology section.
Are you curious as to who are members of the Fédération française de la couture. You can find a list of members of the Fédération française de la couture.Haute_couture_guide_womens_haute_couture.htm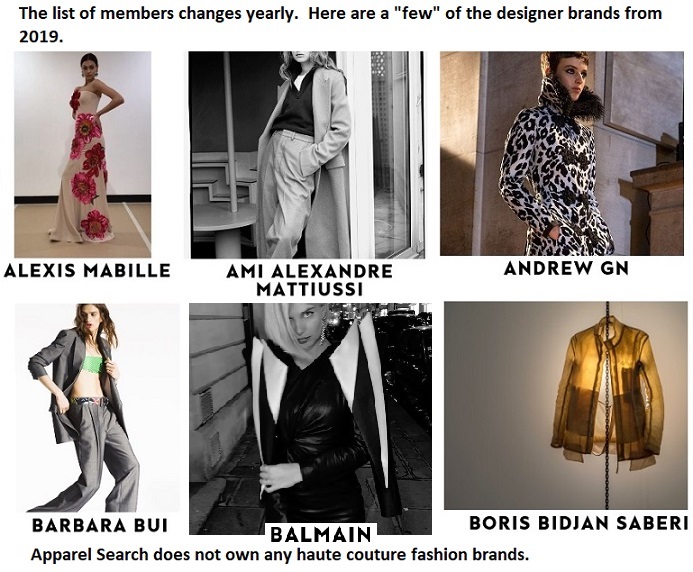 Apparel Search is a leading guide to fashion, style, clothing, glam and all things relevant to apparel. We hope that you find this Women's Haute Couture page to be helpful.
What ever luxurious clothing you are wearing today is in fashion as far as we are concerned.
If you want to be even more stylish, you should wear your Women's Haute Couture.
Have you seen our Fashion Designer Directory section?
You may want to visit the Fédération française de la couture, du prêt-à-porter des couturiers et des créateurs de mode website to learn more.