Jewellery is not your thing? How about something that can be worn in at least 10 different ways...?

It doesn't get "in your way", doesn't weigh you down and won't get tangled in your hair. Moreover it is very versatile and will refresh even the dullest outfit. You can fasten it to your jacket and it will do well by keeping your scarf in place. You can pin it to your bag or hat. You can attach it to your belt or even a key ring. So what is this magic thing..? It's a good old brooch and Jolita Jewellery offers a selection of quirky handmade brooches with their own twist.
Pieces are created combining an array of different materials: semi-precious stones, such as coral, carnelian, and malachite to name a few, vintage medallions, charms and others. Each piece is unique and will scandalously draw the eye to your clothes or accessories.
For a glamorous touch choose Noir brooch. Made using vintage brass pin, the piece is adorned with gold plated pewter skull, a multitude of semi-precious stones, crystals and feathers. It also bears two sterling silver medallions that are suspended from a brass chain.
If you like something sharper, go for a Military style or Rex brooches handmade by combining oxidised silver chains, coins, charms and few other vintage market finds.
For simple yet very elegant adornment choose a brooch, embellished with a cluster of Swarovski crystals and smoky quartz.
However one of our favourite ones is quirky regal style brooch, handmade using feathers, pewter skull and a selection of semi-precious stones that are embroidered onto luxurious ruby red velvet.
Brooch is one of the most versatile jewellery pieces that can be worn in a number of ways. And if jewellery after all IS your thing - then pin it to a chain and transform your brooch into a pendant.
They create the pieces for your enjoyment and how you wear them - is up to your imagination.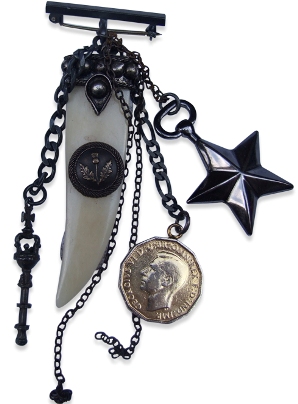 Learn more about Jolita Jewellery.