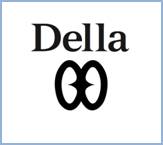 Actress Jillian Clare Will Co-host Exclusive Event Saturday, May 21 at Le Parc Suite Hotel in West Hollywood
Jillian Clare, star of the award-winning web-series Miss Behave and Days of Our Lives alum, will be co-hosting an exclusive event for fashion accessories line Della. Jillian was given several Della bags by a stylist and immediately fell in love with the bags, and with the concept of the programs created by Della for the seamstresses who make the bags in Ghana.
"I absolutely love Della purses," gushes Jillian, "Not only are they cute, fashionable and fun, but they support an amazing cause! I also love the fact that inside each bag is the signature of the woman in Hohoe, Ghana that handmade it. It gives a personal touch that no other purse does!"
Jillian counts Della as a favored line, along with Jeffrey Campbell and Sue Wong.
The Saturday, May 21 event will give invited editors, fashion writers and celebrities an opportunity to celebrate the launch of the Limited Edition Summer 2011 clutches from Della, as well as giving them a sneak peek at the upcoming Fall 2011 MacBook and iPad covers.
Della is a line of bags and accessories that are hand-made from fabrics purchased locally in Ghana, constructed by seamstresses in the village of Hohoe, Ghana. Della provides the seamstresses with employment, while also providing programs that teach them about micro-financing, developing savings, and the art of entrepreneurship. Many of the women sewing the bags have dreams of becoming businesswomen. They are given an opportunity to earn wages and learn to structure their finances to lay the groundwork to possibly opening their own businesses. Della is not a charity, but an organization dedicated to empowering women through business.

You can also read more handbag news here on Apparel Search.