Social shopping leader Kaboodle announced today the launch of Kaboodle Together, an interactive group experience that enables users to co-browse the Kaboodle site with others. Members can create rooms and invite their friends and followers to chat, browse and shop together by simply sharing a link or sending an invite through Facebook, Twitter, or email. There are no downloads, installs or plug-ins required of any kind.
"We are really excited about this new technology. Our users love sharing their personal styleboards, lists and latest style finds with each other, and now they can share it all in real-time with Kaboodle Together," said Alex Amin, Co-ceo of Kaboodle. "It's truly the next step in the evolution of social shopping."
In addition to enabling users to browse together in real-time, Kaboodle Together features audio and video chat, cursor tracking, screen drawing, private rooms, and multi-platform compatibility. Whether friends, colleagues or family members are on a desktop, smartphone or tablet, everyone can view the same content while automatically following the leader from page to page. Leaders can also pass controls to other users, giving everyone the opportunity to control the shopping session.
"It's a great resource for people to communicate and share without actually being physically next to each other. Shopping is naturally a very inclusive process and with Kaboodle Together we are allowing people to do just that - shop together as they do in the real world," said Rafi Gordon, Co-cEO of Kaboodle.
"We're extremely proud to work with the Kaboodle team to integrate our site embed technology into the site that pioneered social shopping," said K. David Pirnazar, CEO and co-founder of samesurf. "With this integration partnership, we look forward to building upon our goal of truly redefining what it means to 'share' online."
Kaboodle Together is an indispensable tool for brides looking to get and give feedback from bridesmaids, friends in need of fashion advice or make up tips before a date or job interview, girls getting ready to decorate their dorm rooms, or parents needing birthday, holiday and back-to-school gift ideas. The platform, in conjunction with the site's user-merchandised styleboards, polls, lists and blogs, helps solidify Kaboodle as the premier social shopping destination for "stylistas" looking to connect and interact virtually.
With nearly 2 million registered users, more than 5 million monthly visitors, and nearly 13 million products being curated and shared daily, the site caters exclusively to the fashion, beauty and home shopping categories. To learn more about Kaboodle and to try out the innovative Kaboodle Together shopping tool, please visit www.kaboodle.com.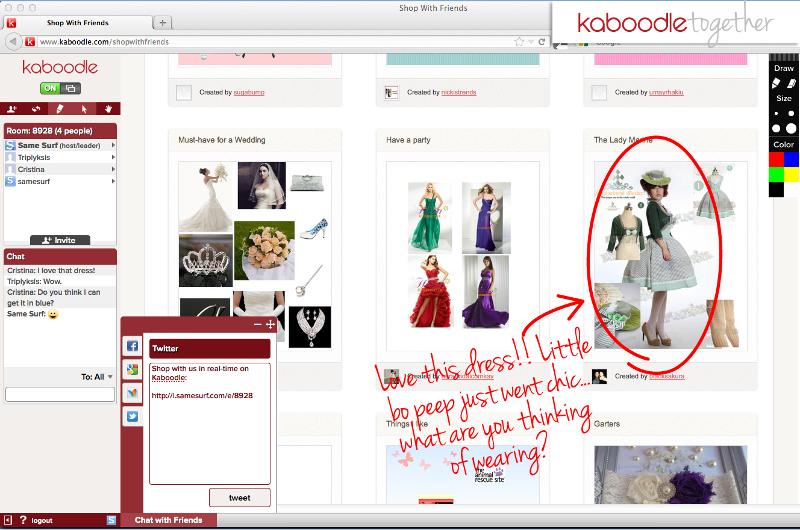 About Kaboodle
Kaboodle is a one-of-a-kind social networking site that allows users to explore looks, play stylist, write blogs and create polls all while communicating with fellow "stylistas." Users discover new trends, shop for products and share their style ideas within an always evolving and truly inspiring community. Kaboodle is part of the Hearst Digital Network, a division of Hearst Magazines. Kaboodle and StyleSpot are part of Image Network Inc., which was founded by Rafi Gordon and Alex Amin, and whose investors include Idealab and Hearst Entertainment.
About Samesurf
Samesurf is a browser/application, site embed technology and destination site that empowers multiple users to surf the web together in real-time without having to experience the lag, complexity and one-way interactivity of screen sharing. The company's cross platform offerings integrate patent-pending co-browsing technology with video chat, screen drawing, cursor tracking and social integration to seamlessly recreate the experience of "being there together in person." Samesurf requires no downloads, installs or plug-ins and functions on virtually every desktop and mobile browser. The company was founded by CEO K. David Pirnazar and Sapient co-founder Jerry A. Greenberg and its investors include Omninet Capital.