Are you ready to go shopping?
Learn more about
Apparel here on Apparel Search.

Hukkster is an essential online shopping tool for fashion and beyond, helping savvy shoppers save time, get organized and shop smarter. It is a bookmarklet (like Pinterest's "pin it" button). When you're shopping your favorite online retailer (say bloomingdales.com) and you find a product you love, you simply "hukk it" and then you'll get a notification by email or text when the price on that specific style drops.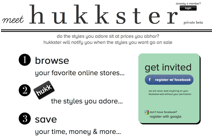 Hukkster is founded by Erica and Katie, former buyers for J.Crew. Katie and Erica launched hukkster to help sophisticated shoppers save time and money. Learn more about Hukkster and the companies founders at their website.

◊ Shopping For Women's Clothing
◊ Shopping For Children's Clothing

By the way, you can find fashion boutiques on Apparel Search, if you were interested. You can find them in the fashion boutiques section.
You may also want to visit the fashion boutiques guide to find and research boutiques by state.
Don't forget to check the fashion boutique directory as well.

2012 Fashion Shopping News Articles
2011 Fashion Shopping Articles
2008 Fashion Shopping Articles

Fashion News Article Archive 2011
Trendy links of interest:

Online Fashion Retailers
Price Comparison Shopping
Designer Fashion Boutiques
Celebrity Fashion

Check out our new clothing guides.
You may also like to view the fashion designers guide.
Learn more about women's fashion, men's fashion and children's fashion.