Avery Dennison Launches New Solutions-center Web Site for Apparel Producers, Retailers and Brand Owners. The new site addresses industry needs to display, track and protect brands at any point along the global supply chain.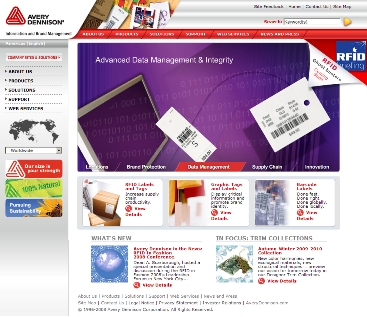 Apparel manufacturers, retailers and brand owners facing a range of business challenges can now turn to a powerful new Web site launched by the Information and Brand Management Division (IBMD) of Avery Dennison.
The site presents every retail identification solution needed to display, track, trace and protect brands, products and information.
The new Web site brings to visitors a vast array of products and technical resources unmatched in the apparel textile industry. It reflects the company's combined and strengthened offering following its 2007 acquisition of Paxar Corporation.
Avery Dennison is now the leading global presence in the retail, tag, ticketing, brand and product identification market. The company's scale of operations, consistent product range and ability to offer data integrity on a worldwide basis have made it the supplier of choice for the apparel textile industry's biggest name brands and retailers.
According to Kim Macaulay, vice president, product management and strategic business development, the Web site will evolve as both a solutions resource and an interactive site for sharing industry intelligence and ideas.
Our ultimate goal is to develop this site into an indispensable industry resource,
she says.
Future Web site additions will include two-way interaction where visitors can provide input and Avery Dennison can discuss critical topics such as compliance with the U.S. Consumer Product Safety Improvement Act of 2008, as well as serve as a training resource for our customers and a place to see the latest innovations and fashion trends in custom labeling.
The Web site was launched this week in English with more languages to follow during the remainder of 2008 and into 2009.
Avery Dennison's Information and Brand Management Division has nearly 200 facilities in over 40 countries, a global presence that places consultants, technicians and representatives close to every major apparel sourcing region. The organization's proximity to apparel production centers facilitates speed of product delivery and responsiveness to customer needs.
The new IBMD Web site is part of a total redesign of all Avery Dennison business sites, a process that will be implemented throughout 2009. The site follows corporate design standards based on customer feedback and the benchmarking of best business Web sites from around the world.
Avery Dennison's overall product offering is presented in terms that directly address some of the apparel textile industry's most pressing business needs. Visitors seeking globally consistent labeling products, supply chain visibility, security, data management, RFID investment justification, support for green apparel initiatives and much more will find these topics covered in consultative text with recommended solutions.
About Avery Dennison Corporation
Avery Dennison is a global leader in pressure-sensitive labeling materials, retail tag, ticketing and branding systems and office products. Based in Pasadena, Calif., Avery Dennison is a FORTUNE 500 Company with 2007 sales of $6.3 billion. Avery Dennison employs more than 30,000 individuals in more than 60 countries who develop, manufacture and market a wide range of products for both consumer and industrial markets. Products offered by Avery Dennison include: Fasson brand self-adhesive materials; Avery Dennison brand products for the retail and apparel industries; Avery brand office products and graphics, imaging media; specialty tapes, peel-and-stick postage stamps, and labels for a wide variety of automotive, industrial and durable goods applications.
Visit : http://www.ibmd.averydennison.com or www.ris.averydennison.com
---
Avery Dennison Upgrades ItemSight
DoD RFID Compliance Solution for Apparel and Textile Producers Fashion Technology Article Posted October 6, 2008
President and CEO of Avery Dennison Addresses RFID in Fashion 2008 Conference Fashion Technology Article Posted August 2, 2008
Avery Dennison Launches New Eco-friendly Heat Transfer Solution Fashion Technology Article Posted April 8, 2008
April 2008 Fashion Archive 2008
September 2008 Fashion Archive