The 1970's was a decade that began on January 1, 1970, and ended on December 31, 1979. In the 21st century, historians have increasingly portrayed the 1970s as a "pivot of change" in world history focusing especially on the economic upheavals, following the end of the postwar economic boom. In the Western world, social progressive values that began in the 1960s, such as increasing political awareness and economic liberty of women, continued to grow.
Fashion in the 1970s was about individuality.
New technologies brought advances in production through mass production, higher efficiency, generating higher standards and uniformity. Generally the most famous silhouette of the mid and late 1970s for both genders was that of tight on top and loose on bottom. The 1970s also saw the birth of the indifferent, anti-conformist casual chic approach to fashion, which consisted of sweaters, T-shirts, jeans and sneakers.
During the 1970's the market appeared to become flooded with cheap synthetic clothing.
Despite the hippie culture fading out of popularity in the early 1970s, the decade began with a continuation of the hippie look from the 1960s.
Popular early 1970s fashions for women included Tie dye shirts, Mexican 'peasant' blouses, folk-embroidered Hungarian blouses, ponchos, capes, and military surplus clothing. Bottom attire for women during this time included bell-bottoms, gauchos, frayed jeans, midi skirts, and ankle-length maxi dresses. Hippie clothing during this time was made in extremely bright colors, as well as Indian patterns, Native American patterns, and floral patterns.
Women's hippie accessories of the early 1970s included chokers, dog collars, handcrafted neck ornaments, and accessories made from natural elements like wood, shells, stones, feathers, Indian beads and leather
Although the hippie look was widespread, it was not adopted by everyone. Many women still continued to dress up with more glamorous clothes, inspired by 1940s movie star glamour.
By 1974, the T-shirt was no longer considered underwear, and was by then made in elaborate designs such as slogans, sports teams, and other styles. Around the same time the looser, more flowy shirts of the early 1970s had given way to fitted tops.
By the mid 1970s, the hippie look had nearly completely disappeared, although casual looks continued. In the mid 1970s women wore sweaters, T-shirts, cardigans, kimonos, graphic T-shirts and sweaters, jeans, khakis, gauchos, workmen's clothes, and vintage clothing. Around 1976, casual fashion adopted a Parisan peasant look.
Clean-cut, all-American active wear for women became increasingly popular from 1975 onwards. The biggest phenomenon of this trend was the jumpsuit, popular from 1975 onwards.
Clothing styles during the 1970s were influenced by outfits seen in popular music groups and in Hollywood films. Much of the fashion of the early 70's was influenced by the hippie movement.
Significant fashion trends of the 1970s include:
Bell-bottomed pants remained popular throughout the decade. These combined with turtle necked shirts and flower-prints to form the characteristic 1970s look. In the later part of the decade, this gave way to three-piece suits, in large part because of the movie "Saturday Night Fever".
Miniskirts and minidresses were still fashionable in the first half of the decade, but were quickly phased out by the mid-70s in favor of hot pants. However, miniskirts and minidresses never totally went away, and they made a return to mainstream fashion by the mid-1980s and has remained a staple in mainstream fashion ever since.
A miniskirt (sometimes hyphenated as mini-skirt or separated as mini skirt) is a skirt with a hemline well above the knees, generally at mid-thigh level, normally no longer than 10 cm (4 in) below the buttocks;[1] and a dress with such a hemline is called a minidress or a miniskirt dress. A micro-miniskirt or microskirt is a miniskirt with its hemline at the upper thigh.
Platform shoes - Platform shoes are shoes, boots, or sandals with an obvious thick sole, usually in the range of 3–10 cm (1–4 in). Platform shoes may also be high heels, in which case the heel is raised significantly higher than the ball of the foot. At the beginning of the fad, they were worn primarily by young women in their teens and twenties, and occasionally by younger girls, older women, and (particularly during the disco era) by young men.
Leisure suits - A leisure suit is a casual suit consisting of a shirt-like jacket and matching trousers, often associated with American-influenced fashion and fads of the 1970s. Suits as casual wear became popular among members of Britain's mod subculture in the 1960s, but only achieved widespread popularity in the United States when—with the creation and popularization of synthetic materials—unprecedented inexpensive prices met with a culture that had come to hate formality. They are frequently associated with that era's disco culture.
Jump Suit
Disco Fashion
Learn more about fashion of the 70's.
The disco music genre spawned its own fashion craze in the mid to late 1970s. Young people gathered in nightclubs dressed in new disco clothing that was designed to show off the body and shine under dance-floor lights. Disco fashion featured fancy clothes made from man-made materials. The most famous disco look for women was the jersey wrap dress, a knee-length dress with a cinched waist. It became an extremely popular item, as it flattered a number of different body types and sizes, and could be worn both to the office by day, and to nightclubs and discos by night.
Disco fashion was generally inspired by clothing from the early 1960s. Disco clothes worn by women included tube tops, sequined halterneck shirts, blazers, spandex short shorts, loose pants, form-fitting spandex pants, maxi skirts and dresses with long thigh slits, jersey wrap dresses, ball gowns, and evening gowns.[8] Shoes ranged from knee-high boots to kitten heels, but the most commonly worn shoes were ones that had thick heels and were often made with see-through plastic.
Fashion of the 70's is obviously important but the hairstyles also play a role in the overall style of the times.
Women's hairstyles went from long and straight in the first half of the decade to the feathery cut of Farrah Fawcett.
Sideburns were popular for men, as were beards and mustaches which had been out of fashion since the 19th and early 20th century.
Sideburns, sideboards, or side whiskers are facial hair grown on the sides of the face, extending from the hairline to run parallel to or beyond the ears.
Mohawk hairstyle was associated with punk subculture. The mohawk (also referred to as a mohican) is a hairstyle in which, in the most common variety, both sides of the head are shaven, leaving a strip of noticeably longer hair in the center.
During the early 1970s, popular music continued to be dominated by musicians who had achieved fame during the 1960s such as the Rolling Stones, The Who, Bob Dylan, The Grateful Dead, and Eric Clapton. In addition, many newcomer rock groups such as Black Sabbath and Led Zeppelin appeared.
By the late 1970s, most major U.S. cities had thriving disco club scenes, and DJs would mix dance records at clubs such as Studio 54 in New York City, a venue popular among celebrities. Discothèque-goers often wore expensive, extravagant and sexy fashions.
Learn more about 1970's fashion.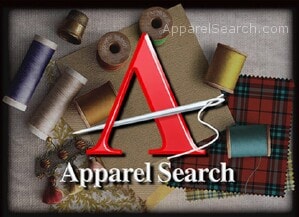 Return to the top of this fashion for the 70's page.
Common fashion of the 70's included mini skirts, bell-bottoms popularized by hippies, vintage clothing from the 1950s and earlier, and the androgynous glam rock and disco styles that introduced platform shoes, bright colors, glitter, and satin.
We hope this summary of fashion section has been of help to you.
Thank you for using the Apparel Search website.