What are MBT shoes?
MBT stands for Masai Barefoot Technology.
MBT has also become almost a generic term for rocker sole shoes. A rocker sole shoe or rocker bottom shoe is a shoe which has a thicker-than-normal sole with rounded heel. Such shoes ensure the wearer does not have flat footing along the proximal-distal axis of the foot. The shoes are generically known by a variety of names including round bottom shoes, round/ed sole shoes, and toning shoes.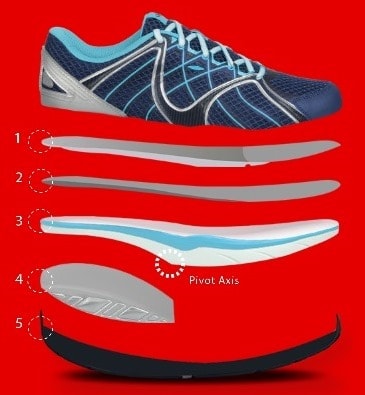 Branded generic rocker sole shoes were popularized for the mass market in the late 1990s and 00s by the Swiss Masai company as Masai Barefoot Technology or MBT.
The shoes were invented by a Swiss engineer called Karl Müller in the early 1990s. He noticed, on a visit to Korea, that walking barefoot over some soft paddy fields alleviated his back, knee and Achilles tendon problems. He also discovered that the Kenyan Masai tribesmen don't suffer from back pain and are famous for their perfect posture. Putting these two pieces of information together, Muller reasoned that this was because they walk across ground that yields underneath their feet. Walking on hard surfaces, such as pavements, that don't have any "give", he concluded, has not been good for our backs, knees, and ankles.
Muller decided that the answer was a shoe with a curved sole, effectively with no heel, which mimics the rocking motion of a foot walking on soft sand or grass.
The first prototype of the MBT trainer was constructed in 1996 and by 2000 approximately 20,000 pairs were sold in Switzerland, Austria and Germany.
What is Masai Barefoot Technology?
In essence MBT is a redesign of shoes to cause the user to have to balance while they walk. MBT shoes create natural balanced walking posture.
Claims to Improved Health:
Proponents of modern heel-to-toe rocker sole shoes claim that because the foot of the wearer is slightly destabilized, certain lesser-worked muscle groups in the leg, such as the core and gluteus, are challenged more than they are normally. As such they are purported to derive health benefits for the wearer, such as improved posture and tighter muscles
In regard to the MBT brand shoes from Masai Barefoot Technology, "Due to MBT's unique curved layered sole, it lengthens the body into a tall, upright posture and encourages use of neglected muscle groups. When walking or jogging users engage untrained muscles and burn more calories, helping people to tone and to lose weight efficiently. Even while standing the muscles continue working to maintain a center of balance. With every step taken, MBT is therapeutic and simultaneously preventative."
MBT shoes can change the way most of us use our muscles as well as reduce shock forces to the entire skeletal system. Masai Barefoot Technology makes all surfaces like walking in sand. Unlike most conventional training shoes that only support and cushion your feet, the unique lever spring action of MBT's challenge the core strengthening muscles to be more active. According to the company that invented the shoe, this helps create good posture and increases shock absorption for all the joints.
Apparel Search does not know if the shoes truly provide benefit or not. Please conduct your own research and investigate all medical benefit claims.
Authorized MBT shoe retailers:
If you are looking specifically for MBT brand shoes and not just any heel-to-toe rocker, you can visit their website to learn more about authorized retailers.
MBT®, the Swiss engineered and original Physiological footwear brand, has adopted an advanced system of traceability that will effectively tackle the problem of counterfeit products and protect their brands' patented technologies. This innovative solution is developed in cooperation with Certilogo, based in Milan, Italy, which provides a user friendly system which allows their consumers to assess if a product is authentic or not, via a platform which collects specific data. It is their desire to provide their consumer with confidence that they are purchasing an authentic MBT® Product. Certilogo helps ensures their consumer can reliably buy a real MBT® and enjoy the experience of their footwear knowing it's an original. The Certilogo process provides each individual pair of shoes with a unique identification code which allows consumers to verify the authenticity of the product as an original MBT®. See more at: http://www.mbt.com/en-uae/about-mbt/product-authentication#sthash.awrkxvcA.dpuf

Their Sole purpose:
The natural instability of the unique MBT® sole imitates walking on soft, uneven surfaces. The technology in the sole has been patented worldwide to provide the greatest comfort possible, as it allows you to enjoy the natural benefits of walking every day.
The patented MBT® SensorTechnology™ produces what has been described as a pleasant and natural feeling, reminiscent of walking on a sandy beach. The Pivot Axis promotes a rolling movement, which in turn may help increase lower limb muscle activation in your every step.
Designed for you:
With sleek and stylish silhouettes, bright color pops, as well as the popular blacks and browns, there are designs for all occasions, overall the range is more lightweight, more durable and more comfortable than ever, ensuring our consumers can find the perfect pair for their unique journey.
MBT - The Original Physiological footwear since 1996. Learn more about Masai International Pte Ltd at http://www.mbt.com/
ML12315
Read more fashion terms here on Apparel Search. We hope you have been enjoying your reading.
Thank you for using the Apparel Search website.