Care labels are placed on clothing and fashion accessories to provide information about fiber content and washing instructions.
Here is an interesting use of a care label. According to this care label, the washing instructions read that the garment should be given to your wife to wash. According to the label, washing the label is her job.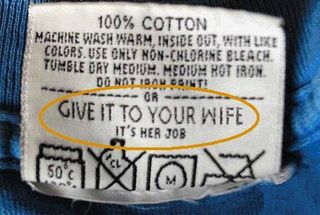 Note: We did NOT create this label. And we most likely do NOT agree with the labeling statements. And Yes, I did NOT tell my wife that I posted this image.
Please contact us if you have additional clothing or clothing accessory images that would be appropriate for this unusual clothing section...