Tattoos are trendy.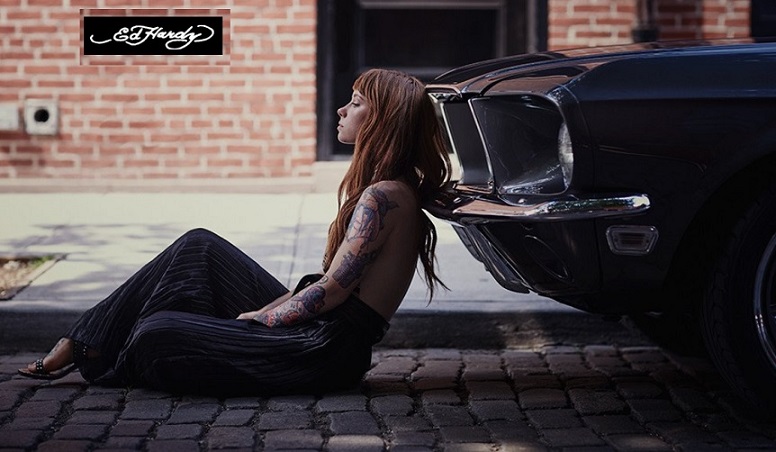 Don Ed Hardy is an American tattoo artist raised in Southern California. Hardy is best known for his tattoo work and his eponymous apparel and accessories brand Ed Hardy. He became recognized for incorporating Japanese tattoo aesthetics and technique into his American style work.
In the 2000s, Hardy has licensed his brand, and it is now found on a wide variety of products.
The most famous licensee was Christian Audigier, previously of Von Dutch Originals, which marketed the imagery of Kenny Howard (aka Von Dutch), another noted American subculture artist. Audigier licensed the worldwide rights to the Ed Hardy brand in 2005 through his holding company, Nervous Tattoo, and attempted to replicate the marketing techniques employed by Von Dutch Originals, marketing directly to celebrity clients and by opening stores in high-profile fashion districts. The brand under Audigier was extremely popular for a time, peaking at more than $700 million in gross revenue in 2009, but collapsed quickly in 2009–2010, with many stores closing.
Learn more about the Ed Hardy Women's Fashion Brand.
This began in the early 2000s, when Hardy licensed Ku USA, Inc. to produce a line of clothing based on his art. Hardy Way LLC, owned the Ed Hardy brand and trademarks. In May 2009, Iconix Brand Group announced it had acquired a 50 percent interest in Hardy Way, LLC, the owner of the Ed Hardy brand and trademarks, which it increased to 85% in 2011. Hardy retains a 15% minority stake.
If you have changed your mind and do not wish to research the brand Ed Hardy, you can use the search engine on this page to find another clothing label that may be of more interest.
When you are ready to research additional fashion brands for women you can try the following pages to find our alphabetical list of women's fashion brands.
Have you seen our Fashion Designer Directory section.
Please keep in mind that sometimes the brand of clothing you've always loved won't fit as well as it has in the past. As a matter of fact, the quality could change at your favorite designer's shop, as they adjust their demographics or respond to shifts in consumer spending etc. So remember to keep your favorite and most familiar brands on hand. You should always keep your eyes open for the next up-and-coming designer labels, as well. Today's unknown designer brand could become tomorrow's favorite!
Apparel Search is a leading guide to fashion, style, clothing, glam and all things relevant to apparel. We hope that you find this Ed Hardy page to be helpful.
The clothing that you are wearing today is most definitely in style. You are clearly a trendsetter.

Ed Hardy