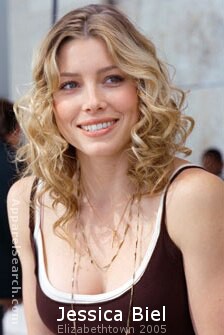 Jessica Claire Biel-Timberlake (born March 3, 1982) is an American actress, model and singer. She began her career as a vocalist appearing in musical productions until she was cast as Mary Camden in the family-drama series 7th Heaven, for which she achieved recognition. The series till now is the longest-running series that has ever aired on The WB channel and is the longest-running family drama in television history. In 1997, she won the Young Artist Award for Best Performance in a Feature Film – Supporting Young Actress for her role in Ulee's Gold. Biel has since starred in many films, including The Rules of Attraction (2002), The Texas Chainsaw Massacre (2003), Blade: Trinity (2004), Stealth (2005), I Now Pronounce You Chuck and Larry (2007), The A-Team (2010), New Year's Eve (2011), and Total Recall (2012). She appeared in the thriller indie film Emanuel and the Truth about Fishes in 2013.

Apparel Search has selected Jessica Biel as a fashion celebrity.
| | |
| --- | --- |
| Bing Search Results: | Google Search Results: |
Apparel Search guide to Jessica Biel photos, Jessica Biel videos, Jessica Biel news, Jessica Biel blog posts and more. If you are interested in fashion and style, you will be interested in Jessica Biel.
Search for additional fashion celebrities and fashion icons ...
Female Fashion Celebrities A-G
Female Fashion Celebrities H-P
Female Fashion Celebrities Q-Z
A celebrity is a widely-recognized or famous person who commands a high degree of public and media attention.
A fashion celebrity, in the opinion of Apparel Search, is a person that has celebrity status and is often watched and judged for what they wear. Here are a few more fashion celebs that you can review.
JENNIFER LOVE HEWITT

JESSICA ALBA
The term glamour was originally meant to be; a spell cast over someone, particularly to change how things appeared to them. The primary modern meaning of the word relates to fascination, charisma, beauty, or attraction. Celebrities are often referenced as glamorous. In addition to celebs being glamorous, regular every day people, or their lifestyles, can be described as glamorous. Although many words which end in "our" in British English are spelled with "or" in American English, "glamour" is an exception with the "u" usually being retained. This may be due to its original being Scottish rather than French or Latin. The alternative spelling "glamour" is sometimes used in American English, but not as frequently. Also, Glamour in modern day is occasionally abbreviated as simply Glam.