You can find the latest fashion news regarding your favorite celebrities all over the internet. The problem is, "how do you find the most current news"? Lets be honest, who cares what the celebs were wearing "last week". We want to know what they are wearing "today" or "yesterday".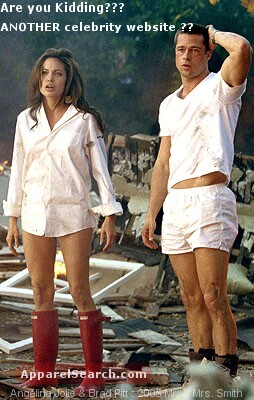 We have recently created a celebrity fashion guide here on Apparel Search. In that section you can find celebrity photos, videos, and an assortment of celebrity news resources. The celeb guide is separated so that you can easily search for female fashion celebrities or male fashion celebrities.
In the Apparel Search celebrity fashion section you can find celebrity fashion news at websites such as TMZ, WWD or E! Online. This is achieved via convenient links to their websites for your easy viewing pleasure.
If you are interested in scrounging around for every last bit of celebrity news, you can also dig up some fashion celeb news from the fashion news articles section here at Apparel Search.
For those of you that prefer to obtain news from social media websites such as Facebook or Twitter. From their you can read or post comments and information about your favorite fashion stars.
You can also find tons of interesting information in our fashion blog. We have plenty of information about movie stars, musicians, and all sorts of other famous people.
One our favorite ways to locate news about celebs and fashion is by using one of the large news search engines. For example, you can use the following links to search for the latest celebrity news by using some of the best engines in the world. This is a great way to find the most current daily dish on the celebrities.
Google - celebrity fashion news
Yahoo! - celebrity fashion news
Microsoft - celebrity fashion news
If you are interested in finding celebrities wearing fashion, you may find some visual reference at the Fashion Week Photos or the Fashion Week Videos websites. If you do not find enough there, you can definitely find fashion celebrity news at the Fashion Industry Network. At the fashion network site, you will find a celebrity fashion groups and forums regarding celebrities in fashion.
By the way, if you still have not found enough, we suggest you try the Style.com site. You can learn more about them at our Style.com Profile page.
Don't forget to check out the fashion trend news section as well. You can on occasion find celebrity fashion in the fashion trend news area. Each day you can check the fashion news daily section for ideas on how to find stylish news on a daily basis... Equally as important, do not miss the Fashion News Articles website for your latest disk on fashion.
Which celebrity are you looking for?
Some of the favorites are Jessica Biel, Jessica Alba, etc. You can actually search for them or any other famous person from the engine below.
Image Source: Angelina Jolie & Brad Pitt in the great movie, "Mr. & Mrs. Smith.
You may also enjoy reading a few of our Think Tank Articles.