A thoughtfully crafted collection of classic menswear.
Paul Fredrick was founded over 30 years ago. Originally specializing in dress shirts, their collection has grown exponentially as has their number of satisfied long-term customers. They design, manufacture and directly distribute every item in their collection. No wholesalers. No store fronts. Just great style at everyday prices. Today there is more choice out there than ever before. And, every day it increases.
They have an eye for style that transcends time but resonates thoroughly in today's world. In regard to dress shirts, they often stock up to 89 unique combinations of sleeve, collar and fit options in a single dress shirt style alone. Making it very likely you are going to find a shirt that fits you.
Learn about the men's Paul Fredrick clothing brand at their website.
They offer only the highest quality items - items that you may not necessarily be able to find everywhere else – in the finest fabrics tailored to our exacting specifications.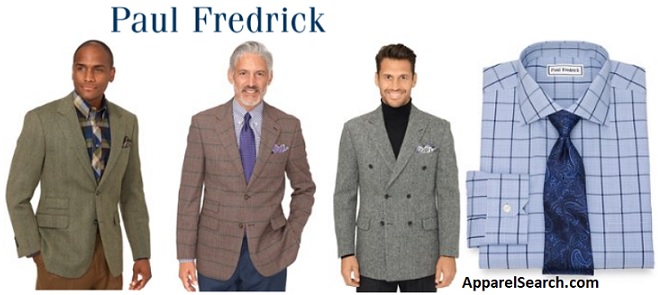 Paul Fredrick company is confident the moment you put one of their dress shirts on, you'll see and feel the comfortable difference of a finely tailored dress shirt. Visit their website to browse their extensive collection of men's dress shirts to find styles you want and choose from a wide selection of details to punctuate your personal style.
In addition to dress shirts, the Paul Frederick brand sell suits, sport coats, outerwear, pants, casual shirts, sweaters, shoes, accessories, and more.
You may want to read our article about how to pick a proper dress shirt.
Research additional men's fashion brands from the following pages of our directory.
Have you seen our Fashion Designer Directory section?
Apparel Search is a leading guide to fashion, style, clothing, glam and all things relevant to apparel. We hope that you find this Paul Fredrick page to be helpful.
The clothes that you are wearing today is most certainly in style.

Paul Fredrick