The Ermenegildo Zegna Group today is one of Italy's most famous family driven enterprises.
Ermenegildo Zegna often abbreviated and known simply as Zegna.
Over the last century the business gene and entrepreneurial spirit has been passed down through the generations, ensuring that the name Zegna remains synonymous with pioneers of business. Growth has been possible through shrewd diversification of the offering, which now ranges from clothing to accessories, and strategies which have enabled the Ermenegildo Zegna brand to grow successfully throughout the world.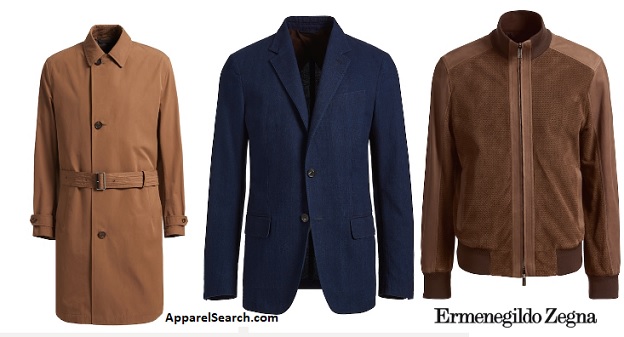 As a family business, Ermenegildo Zegna goes back to the second half of the 19th century. Angelo Zegna a watchmaker by trade, started weaving wool from four looms. Of his ten children it was the last, Ermenegildo born in 1892, who took over what was to become one of Italy's best known and most dynamic family businesses.
Learn more about the men's Zegna fashion brand.
Zegna is one of the largest menswear branda in the world by revenue.
Zegna's range includes fabrics, suits, neckties, knitwear, shirts, accessories and sportswear. They have also branched out in other areas.
You may also want to learn about the Women's Zegna clothing, footwear and accessories.
If you have changed your mind and do not wish to research the brand Zegna, you can use the search engine on this page to find another clothing label that may be of more interest.
Research additional men's fashion brands from the following pages of our directory.
Have you seen our Fashion Designer Directory section?
Apparel Search is a leading guide to fashion, style, clothing, glam and all things relevant to apparel. We hope that you find this Zegna page to be helpful.
The clothes that you are wearing today is most certainly in style.

Zegna