Don Emilio Pucci, Marchese di Barsento was a Florentine Italian fashion designer and politician. He and his eponymous company are synonymous with geometric prints in a kaleidoscope of colors.
Setting up his atelier in the Pucci family's grand palazzo in the heart of Florence, Emilio began working closely with expert fabric manufacturers in Italy to pioneer and patent revolutionary stretch fabrics that eschewed the heavy, rigid fabrications largely in circulation at that time. Contrary to his design contemporaries, Pucci was driven by the desire to liberate women, granting them unprecedented freedom of movement. His stretch silk and cotton jerseys were weightless, unlined, and wrinkle-proof - precursors for a modern, travel-friendly wardrobe that captivated a new generation of modern, active women.
It was during the '50s that Pucci began developing his signature prints: graphic, abstract designs inspired by the world around him – Sicilian mosaics, heraldic banners, Bali Batiks, and African motifs. It was the first time that such pulsing geometric patterns had been incorporated into clothing and the effect was highly original, so much so that the international fashion press, smitten by his bold, radical approach, crowned him "The Prince of Prints". Each print was like a work of art born upon a silk canvas, framed with a decorative border and signed in the artist's name – "Emilio". He brought a luscious, bright color palette to his craft.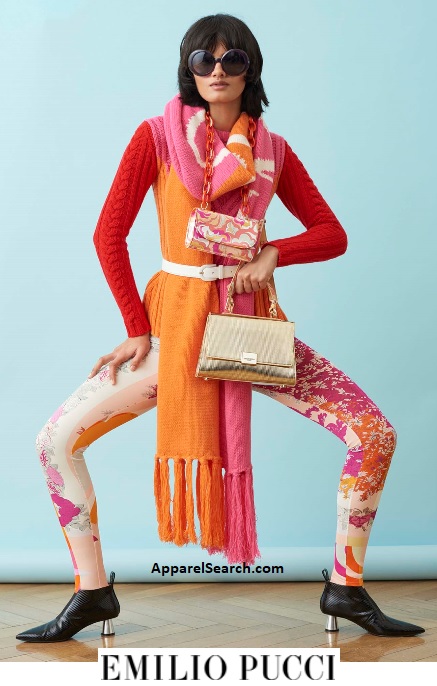 Learn more about the women's Emilio Pucci fashion brand.
Pucci was driven by the desire to liberate women, granting them unprecedented freedom of movement. His designs featured sensual, free-flowing lines that followed the natural curves of the body - effortlessly elegant clothing which took women from day to evening. Additionally, Emilio offered a holistic design vision that ranged to interiors, lingerie, eyewear, perfumes and more, providing an expanded group of consumers with access to designer goods for the first time.
If you have changed your mind and do not wish to research the brand Emilio Pucci, you can use the search engine on this page to find another clothing label that may be of more interest.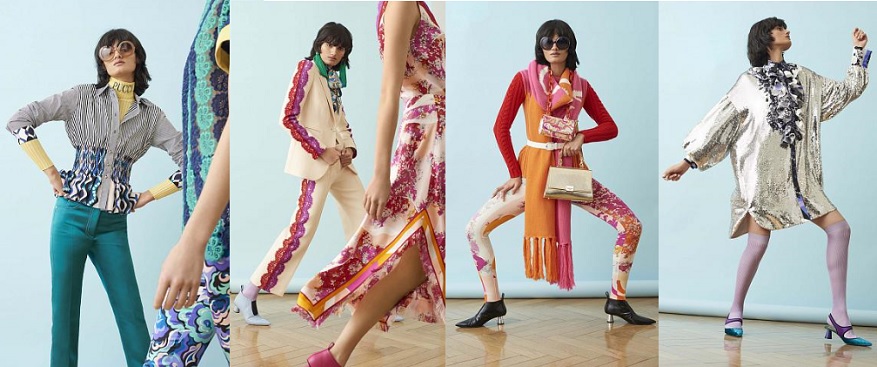 When you are ready to research additional fashion brands for women you can try the following pages to find our alphabetical list of women's fashion brands.
Have you seen our Fashion Designer Directory section?
Apparel Search is a leading guide to fashion, style, clothing, glam and all things relevant to apparel. We hope that you find this Emilio Pucci page to be helpful.
What ever you are wearing, is in style.
Pucci made ends meet by teaching Italian and giving ski lessons in Zermatt. It was there that in 1947 a streamlined ski outfit he designed, initially for himself and then for his enthusiastic socialite friends was photographed by a fashion photographer and published in Harper's Bazaar USA, giving rise to a fashion phenomenon that continues to reverberate to this day.

Emilio Pucci