Welcome to the worlds greatest guide to Women's Cardigan Sweaters. Are you actually looking for ladies cardigan sweaters? Well, we hope you are because the reality is that you have found our page on the topic. In this women's clothing section of the Apparel Search directory, you will find all sorts of interesting information regarding Cardigan Sweaters for women.
Cardigan are a common type of sweater. A cardigan is a type of knitted garment that has an open front. Commonly cardigans have buttons, but it does not have to have buttons.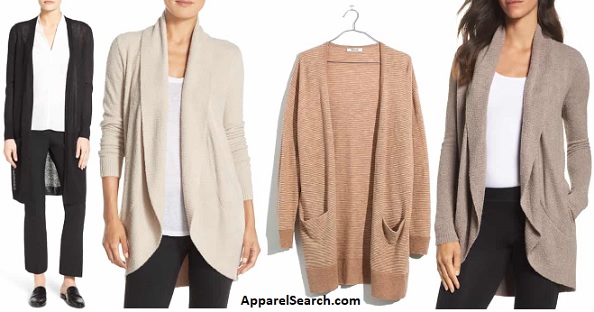 A garment that is tied is instead considered a robe.
A sweater which is also known as a jumper in British English is either a pullover or a cardigan, distinguished in that cardigans open at the front while pullovers do not.
Apparel Search is a leading guide to fashion, style, clothing, glam and all things relevant to apparel. We hope that you find this Women's Cardigan Sweaters page to be helpful.
What ever type of top you are wearing today is in fashion.
If you want to be even more stylish, you should wear your favorite top.

Thank you for using the Apparel Search website.