What is a clog? A clog is a shoe with a thick wooden sole. Clogs are a type of footwear made in part or completely from wood.
Clogs are often associated with whole foot style klompen from the Netherlands. Clogs are a type of footwear made in part or completely from wood.
Dutch Clogs

In the United States, the Swedish clogs (wooden bottom and leather top) are often seen as a trendy fashion items. Utilized often as ladies' high-heeled boots.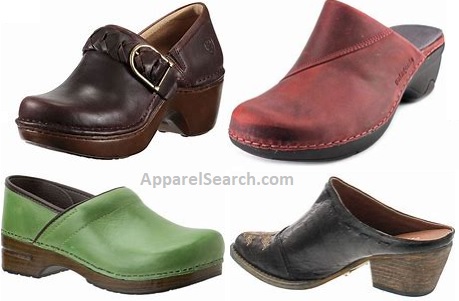 In the 1980s and 1990s clogs based on Swedish clogs returned in fashion for women. Platform clogs or sandals, often raised as high as 6 or even 8 inches right through between sole and insole, were worn in many western countries. The large mid layer was often made of solid cork, although some were merely of plastic with a cork covering. The sole, more often than not, was made of a light sandy-colored rubber. Some of the platforms of these clogs were encompassed about with a string-laced effect.
Traditional wooden footwear is still popular in several regions in Europe.
A British clog is a wooden soled clog from Great Britain. The uppers are typically leather, and many variations exist in style and fastening.
Traditional clogs remain in use as protective footwear in agriculture and in some factories and mines. Although clogs are sometimes negatively associated with cheap and folkloric footwear of farmers and the working class, some types of clogs are considered fashion wear today.
Wooden upper clogs; are made by hollowing out a lump of solid wood to make a combined upper and lower. Two main variants can be seen: Whole Foot Clogs and Half Open Clogs.
whole foot clogs; where the wooden upper covers the whole of the foot to near the ankle, such as the familiar Dutch and Frisian klomp. They are also known as "wooden shoes".

half open clogs; where the wooden upper extends over the toes or slightly further, such as the Italian "zoccolo" or Belgian sabots. Half open clogs may have additional covering or securing straps in some sort of fabric or leather.
Wooden soled clogs; use wood for the sole only. Wooden soled clogs come with a variety of uppers. For example:
complete uppers made from leather or other similar material.
open sandal style - for example a geta. A geta is a Japanese raised wooden clog.
Toe Peg styles - Paduka is the name of India's oldest, most quintessential footwear. It is little more than a sole with a post and knob, which is engaged between the big and second toe.
Since wooden footwear was a hand-made product, the shape of the footwear, as well as its production process showed great local and regional diversity in style. At the beginning of the 20th century machine-made wooden footwear was introduced. After WW2, in particular, wooden shoes disappeared from sight. They were replaced by more fashionable all-leather and synthetic footwear.
Whether you're looking to find a new pair of your most favorite classic clogs or you are searching for a new style you can find a nice assortment from various brands and at some of your favorite shoe stores. Take your time and find a pair of clogs with all the comfort you expect without compromising style. Women's clogs are known worldwide for their comfortable and supportive nature. Being on your feet all day can take a toll on your entire body. Comfort clogs maybe the perfect solution.
What is the difference between a clog and mule?
Mule, a French word, is a style of shoe that is backless and often closed-toed. Mules can be any heel height from flat to high. In modern times the words "clog" and "mule" are often used interchangeably. However, there a few subtle differences between the two shoe categories.
Clogs originated in Scandinavia and the Netherlands.
Mules originated in France.
Clogs are typically defined as backless wooden shoes with low heels and platform soles.
Mules were considered dressier shoes with open backs, high heels and no platform bottoms.
Mules can be made from various materials such as suede, leather and other fabrics.
Clogs were the most popular shoes worn by the working class because they protected the feet and they provided comfort and support better than any other shoes available at that time.
In France around the same time as clogs and were typically worn by the aristocracy.
Mules were sometimes decorated with buckles, beads, feathers and colorful embroidery.
Wood clogs were occasionally painted.
You may find the following categories to be of interest as well.
Apparel Search is a leading guide to fashion, style, clothing, glam and all things relevant to apparel. We hope that you find this Women's Clogs page to be helpful.
What ever you are wearing, is in fashion.
If you want to be even more stylish, you should wear your favorite clogs.
Women's Clothes Directory for additional categories:

Thank you for using the Apparel Search website.