In this women's clothing section of the Apparel Search directory, you will find all sorts of interesting information regarding cotton sleepwear for women.
Sleepwear also called nightwear, nightclothes, nightdress, etc. is clothing designed to be worn while sleeping. The style of nightwear worn may vary with the seasons, with warmer styles being worn in colder conditions and vice versa.
This category of clothing can include nightshirts, pajamas, chemise, negligee, etc. Essentially, any type of garment that is typically worn to bed for the purpose of sleeping (generally for sleeping in comfort).
Sleepwear can be manufactured from a wide variety of textile fibers. One of which being cotton. Garments are often 100% cotton or blended fibers. For example, cotton/poly is one of the common blends.
Cotton is a popular fiber for making trousers for several reasons. If you are not certain about the primary benefits of cotton, you may want to read the benefits of cotton blog post.
Below are a few categories for further research that fall into the sleepwear department:
Pajamas (sometimes spelled pyjamas) are often shortened to PJs or jammies in some regions. In the Western world, pajamas are loose-fitting garments worn chiefly for sleeping.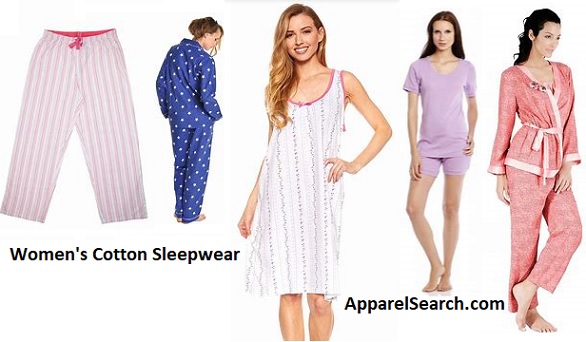 Pajamas, nightwear, sleepwear, are different names for the same category of fashion. Yes, boxer shorts, t-shirts, and other types of underwear can also be worn to sleep.

We hope that you enjoy learning about women's cotton sleepwear. If you have suggestion regarding information that we should add to this page to make it more helpful for others, please let us know.
Thank you for using the Apparel Search website.