In this women's clothing section of the Apparel Search directory, you will find all sorts of interesting information regarding cotton sleep shirts for ladies.
A sleep shirt or nightshirt is a garment intended for wear while sleeping. It is longer than most regular shirts, reaching down to the thighs or below the knees, leaving some of the legs uncovered. It is generally loose-fitting to avoid restricting the wearer's movement while sleeping.
Many different types of tops can be utilized for sleeping. You don't actually have to buy a shirt specifically intended to be sleep top. T-shirts, tank tops, lounge shirts, etc. can also be appropriate nightwear.
Cotton is one of the popular fabrics for many reasons. If you are interested in learning about cotton and the benefits of this type of fabric for clothing, you can read the cotton benefits blog post on the Fashion Blog.
Cotton sleep shirts for women can be solid color, printed, yarn dyed plaids, stripes, etc. You will find a wide variety of options in the market. Some are woven and others are knit. Many different styles exist. You will find button down, pull over, short sleeve, long sleeve, etc.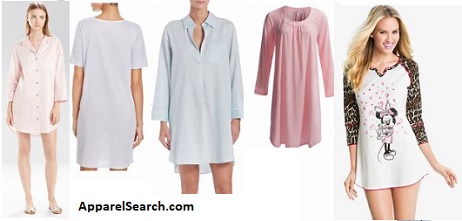 You may also want to visit our cotton lounge shirt page.
Apparel Search is a leading guide to fashion, style, clothing, glam and all things relevant to apparel. We hope that you find this Women's Cotton Sleep Shirts page to be helpful.
What ever you are wearing, is in fashion.
If you want to be even more stylish, you should wear your Women's Cotton Sleep Shirts.
If you want to be even more stylish, you should wear your favorite cotton top.
You may find the following links to be of interest as well.

Thank you for using the Apparel Search website.