A lounge shirt is often described as a loose, straight-cut, short-sleeved shirt or blouse with a simple placket front opening and a one-piece collar (no collar band) that can be worn open and spread or closed at the neck with a button and loop. However, lounge shirts can come in a wide variety of styles.
Loungewear is a category of clothing designed for wear during leisure time, especially around the home. The lounge shirt is the top portion. They can be purchased as a top & bottom set (loungewear) or the tops can be purchased separately (lounge shirts).
Lounge tops can be made from a wide variety of fabrics. One of the popular options would be cotton or cotton blends.
The benefits of cotton are plenty. You can learn about some of the benefits of cotton on the Fashion Blog.
By the way, many different types of tops can be utilized. You don't actually have to buy a shirt specifically intended to be a lounge top. T-shirts, tank tops, sleep tops, etc. can also be appropriate substitutes when you simply want to chill around the house.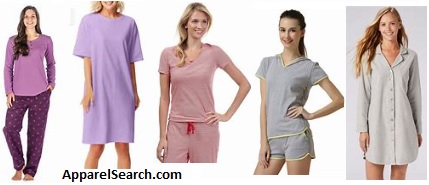 Apparel Search is a leading guide to fashion, style, clothing, glam and all things relevant to apparel. We hope that you find this Women's Cotton Lounge Shirts page to be helpful.
What ever you are wearing, is in fashion.
If you want to be even more stylish, you should wear your favorite cotton top.
You may find the following links to be of interest as well.
We hope that you would like to continue to learn about women's cotton fashion.

Thank you for using the Apparel Search website.
Learn more about women's clothes starting with the letter C.