Women have a wide variety of sleepwear. One of the many options is a sleep top made of flannel fabric. A sleep shirt is clothing designed to be worn while sleeping. A shirt is a cloth garment for the upper body typically from the neck to the waist. Sleep shirts tend to be made longer.
The style of sleep shirt worn may vary with the seasons, with warmer styles being worn in colder conditions and vice versa. For winter months or for people living in cold climates a flannel sleep shirt is common.
Flannel is a soft woven fabric, of various fineness. Flannel is commonly used to make sleepwear such as tops. Flannel may be brushed to create extra softness or remain unbrushed. When brushed the fabric has a softer hand. Although flannel can be made from wool, sleep tops are often made from cotton or cotton blends. Learn about the benefits of cotton fabrics.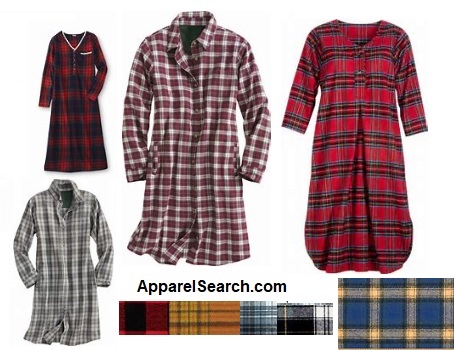 Flannel fabric is often produced as yarn dyed plaids. Flannel textiles can also be solid color or printed.
Women's Cotton Flannel Sleepwear
Women's Cotton Flannel Lounge Shirts
Women's Cotton Flannel Loungewear
Women's Cotton Flannel Pajamas
Learn about other types of Women's Shirts.
We hope that you have found enough women's cotton fashion to satisfy your needs.. If you are done with this section, you can return to the women's fashion guide for more choices. Or you can continue to learn about women's cotton fashion.

You may want to visit a sleepwear store immediately.
Thank you for using the Apparel Search website.