What is a pajama?
Pajamas or pyjamas, often abreviated to PJs or jammies, can refer to several related types of clothing which are primarily intended for sleeping. Pajamas are chiefly for sleeping, but sometimes also worn for lounging.
Traditional pajamas consist of a jacket-and-pants combination made of soft fabric, such as flannel or lightweight cotton.
The jacket or top portion of the pajama usually has a placket front and its sleeves have no cuffs. However, their is a wide variety of pajamas and they have various styling attributes. Contemporary pajamas are derived from traditional pajamas. There are many variations in style such as short sleeve pajamas, pajama bottoms of varying length. Some types of cotton flannel pajamas are one-piece rather than a top & bottom.
Pajamas may today refer to women's combination daywear, especially in the US where they became popular in the early twentieth century, consisting of short-sleeved or sleeveless blouses and lightweight pants. Examples of these include capri pajamas, beach pajamas, and hostess pajamas. All of which can be produced with cotton flannel.
Pajamas are usually loose fitting and designed for comfort. Note: if you are shopping for pajamas for children, they are often more tight fitting for safety reasons.
Flannel is a soft woven fabric, of various fineness. Flannel was originally made from carded wool or worsted yarn, but is now often made from either wool, cotton, or synthetic fiber.
Cotton is a soft, fluffy staple fiber. The fiber is most often spun into yarn or thread and used to make a soft, breathable textile fabric which is wonderful for making flannel pajamas.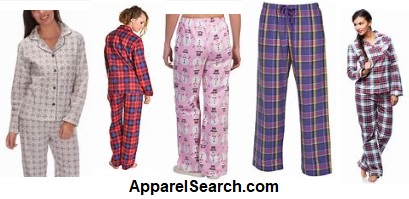 Flannel is often plaid, but it does not have to be produced as a plaid pattern. Tartan is clearly an important design for flannel but it can also be manufactured in solid colors. Rather than yarn dyed plaids or stripes, flannel can also be printed with various designs.
Ladies women's cotton PJ's can be made in long or short sleeve. They can also be made with full length bottoms or shorts. If you are looking for a cozy fabric a brushed flannel is the way to go for sure. yarn dyed can be brushed, but if you are buying printed flannel you can only go with a low amount of brushing or the print can look messy.
Women's Cotton Flannel Lounge Pants
Women's Cotton Flannel Lounge Shirts
Women's Cotton Flannel Loungewear
Women's Cotton Flannel Pajamas
Women's Cotton Flannel Sleep Pants
Women's Cotton Flannel Sleep Shirts
We hope that you have found enough women's cotton fashion to satisfy your needs.. If you are done with this section, you can return to the women's fashion guide for more choices. Or you can continue to learn about women's cotton fashion.
Have you seen our Fashion Designer Directory section?

Thank you for using the Apparel Search website.