A nightgown is light, loose garment worn by a woman bed.
A nightgown may have any neckline, and may have sleeves of any type, or be sleeveless, and any shoulder strap or back style. The length of a nightgown may vary from hip-length to floor-length. A short nightgown can be called a "shortie" or a "babydoll", depending on the style. The sweep (taper from top to bottom) of the night gown can vary from virtually straight, to full circle.
A nightgown can be manufactured from a wide variety of fabrics. One of the popular versions is one made of cotton. Cotton is a soft, fluffy staple fiber that has many benefits when converted into fabric. Learn about the benefits of cotton on the Fashion Blog.
Cotton is soft and comfortable when the fabric is produced well.
Nightgowns are a type of sleepwear. They can also be referenced as a nightdress.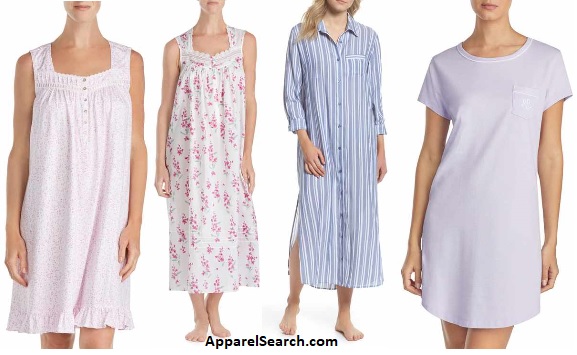 Apparel Search is a leading guide to fashion, style, clothing, glam and all things relevant to apparel. We hope that you find this Women's Cotton Nightgowns page to be helpful.
What ever you are wearing to sleep tonight is in fashion.
If you want to be even more stylish, you should wear your Women's Cotton Nightgowns.
We hope that you have found enough women's cotton fashion to satisfy your needs.. If you are done with this section, you can return to the women's fashion guide for more choices.
Learn more about women's cotton fashion.
Have you seen our Fashion Designer Directory section.


Thank you for using the Apparel Search website.