After long day at work, play or a tiring day at school, nothing feels better than a great night's sleep! Make sure to get comfortable in a proper nightdress.
Another name for nightdress is nightgown or nightie.
A nightdress is a loosely hanging item of nightwear. Nightwear which is also called sleepwear, nightclothes, or nightdress is clothing designed to be worn while sleeping.
A nightgown is made from various fabrics such as cotton, silk, satin, nylon or other materials. Cotton is a popular choice of fabric for a wide variety of reasons.
They may be decorated with lace appliqués or embroidery at the bust and hem.
A nightgown may have any neckline, and may have sleeves of any type, or be sleeveless, and any shoulder strap or back style. The length of a nightgown may vary from hip-length to floor-length. A short nightgown can be called a "shortie" or a "babydoll", depending on the style. The sweep (taper from top to bottom) of the night gown can vary from virtually straight, to full circle sweep. A slip nightgown may be used as a nightgown or as a full slip.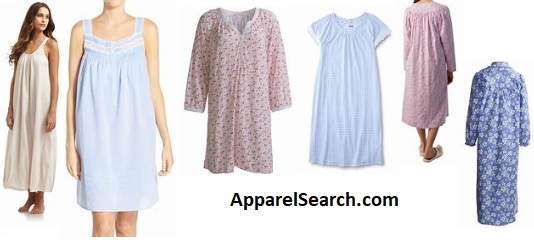 Apparel Search is a leading guide to fashion, style, clothing, glam and all things relevant to apparel. We hope that you find this Women's Cotton Nightdress page to be helpful.
What ever you are wearing, is in fashion.
If you want to be even more stylish, you should wear your favorite nightdress made of cotton.
You may also find interest in the following pages: Women's Organic Cotton Sleepwear, Women's Plus Size Sleepwear, Women's Petite Sleepwear, Women's Silk Sleepwear.
We hope that you have found enough women's cotton fashion to satisfy your needs.. If you are done with this section, you can return to the women's fashion guide for more choices.
Or you can continue to learn about women's cotton fashion.
View additional ladies clothes categories from the following sections:

Thank you for using the Apparel Search website.