Sleepwear is clothing suitable for wearing in bed. Sleepwear includes pajamas, nighties, and other types of nightwear. Sleepwear can be single garments (example night gowns) or sets such as pajamas (tops & bottoms).
Pajamas are often worn with bare feet and sometimes without underwear. They are often worn for comfort by individuals in their living quarters.
Organic sleepwear is nightwear made from materials raised in or grown in compliance with organic agricultural standards. Organic cotton is generally defined as cotton from non-genetically modified plants, and without the use of any synthetic agricultural chemicals such as fertilizers or pesticides. In the United States, cotton plantations must also meet the requirements enforced by the National Organic Program (NOP) from the USDA in order to be considered organic. This institution determines the allowed practices for pest control, growing, fertilizing, and handling of organic crops.
Why should we wear organic cotton sleepwear?
Organic cotton is grown without using fertilizers, pesticides, and other toxic chemicals. With this kind of farming method, cotton plants are not sprayed or treated with any chemical. They only rely on approved organic farming methods. You may get a more comfortable night sleep if you know you are not wearing cotton that had been treated with pesticides or fertilizers.
Pesticides are substances that are meant to control pests, including weeds. Pesticides may cause acute and delayed health effects in people who are exposed. Pesticide exposure can cause a variety of adverse health effects, ranging from simple irritation of the skin and eyes to more severe effects such as affecting the nervous system, mimicking hormones causing reproductive problems, and also causing cancer. Note: just because pesticides had been used during the cultivation of cotton, does NOT mean it is still active after the fiber has gone thru the process to become clothing. Apparel Search has NOT studied this matter, so please do you own research.
A fertilizer (American English) or fertiliser (British English; see spelling differences) is any material of natural or synthetic origin (other than liming materials) that is applied to soils or to plant tissues to supply one or more plant nutrients essential to the growth of plants. Many sources of fertilizer exist, both natural and industrially produced
Sleepwear is also called nightwear, nightclothes, or nightdress. In summary it is clothing designed to be worn while sleeping. The style of nightwear worn may vary with the seasons, with warmer styles being worn in colder conditions and vice versa. Cotton is an important fiber used for this style of clothing. It can be 100% cotton or cotton blends (cotton blended with other fibers). Choosing organic cotton is a good choice for people that are concerned with the use of fertilizers, pesticides, and other potentially toxic chemicals.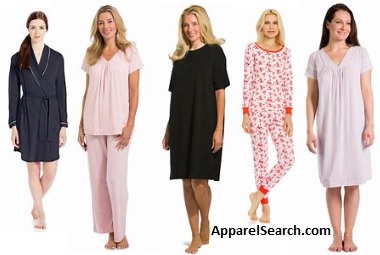 Sleepwear includes pj's, nightshirts, negligee, nightgowns, onesies, etc. People also wear loungewear, t-shirts, shorts, and other comfortable items to sleep.
Apparel Search is a leading guide to fashion, style, clothing, glam and all things relevant to apparel. We hope that you find this Women's Organic Cotton Sleepwear page to be helpful.
What ever you are wearing, is in fashion.
You may also wish to learn about organic clothing categories such as the following:
Women's Organic Cotton Clothing
Women's Organic Cotton Fashion
Women's Organic Cotton Loungewear
Women's Organic Cotton Pajamas
Women's Organic Cotton T-shirts
Women's Organic Cotton Underwear
Women's Organic Cotton Womenswear
If you want to be even more stylish, you should wear your Women's Organic Cotton Sleepwear.

Return to the top of this Women's Organic Cotton Sleepwear page.
Learn about women's cotton fashion.
Thank you for using the Apparel Search website.