Welcome to the worlds greatest guide to women's tan color bras.
A bra is an undergarment worn by women to support the breasts. They come in a wide variety of styles, fabrics, and color options. It is a fitted garment that comes in a wide variety of sizes. The history of bras is inextricably intertwined with the social history of the status of women, including the evolution of fashion and changing views of the female body. Women have used a variety of garments and devices to cover, restrain, reveal, or modify the appearance of breasts.
There are a great many brassiere designs that are suitable for a wide variety of business and social settings and suitable to wear with a variety of outer clothing. The bra's shape, coverage, functionality, fit, fashion, fabric, and color can vary widely. One of the many brassiere color options is the color tan.
Tan is a pale tone of brown. The name is derived from tannum (oak bark) used in the tanning of leather. Colors which are similar or may be considered synonymous to tan include: tawny, tenné, and fulvous.
The color tan offers some of the warmth of the color brown and the some of the crisp and coolness of the color white. While it is a relaxing color, tan is often seen as a dull and boring color. However, the color can be used to create trendy fashion.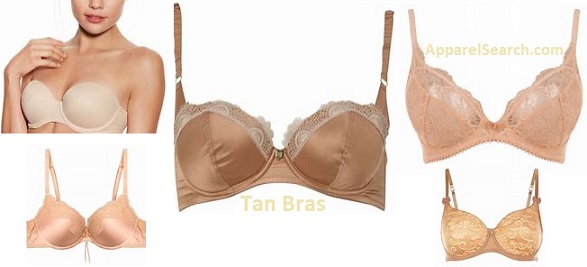 Tan bras can be sexy, comfortable, supportive or all of the above.
Tan matches close to skin color on some people.
Apparel Search is a leading guide to fashion, style, clothing, glam and all things relevant to apparel. We hope that you find this tan bra page to be helpful.
What ever type of under garment you are wearing is in fashion.
If you want to be even more stylish, you should wear your favorite lingerie today. Check out more bras.
Learn about additional bra colors that you may find to be of interest.

Visit the Women's Clothes Directory C page for more ladies apparel options to research.
If you wish to do some shopping, you may want to learn more about the various bra stores in our lingerie retailer section.
Thank you for using the Apparel Search website.