Are you actually looking to learn more about women's denim dresses? Well, we hope you are because the reality is that you have found our page on the topic. In this women's clothing section of the Apparel Search directory, you will find all sorts of interesting information regarding denim dresses for women
Denim is often associated with pants, jackets, and skirts. However, the fabric can also be utilized for a wide assortment of dress options. Mini or maxi, casual or formal, if you take the time to search, you will find designer dresses that can take you from day to night. From the classic casual to elegant evening gowns, you can find stylish denim dresses to fit for every occasion.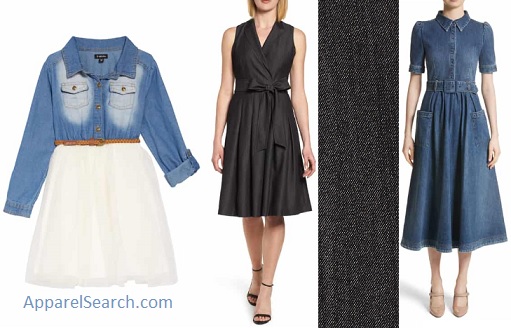 Denim is a sturdy cotton warp-faced textile in which the weft passes under two or more warp threads. This twill weaving produces a diagonal ribbing that distinguishes it from cotton duck. While a denim predecessor known as dungaree.
A denim dress takes this traditionally casual fabric to the next level.
A dress (also known as a frock or a gown) is a garment consisting of a skirt with an attached bodice (or a matching bodice giving the effect of a one-piece garment). It consists of a top piece that covers the torso and hangs down over the legs. A dress can be any one-piece garment containing a skirt of any length. Dresses can be formal or informal.

Thank you for using the Apparel Search website.