Apparel Search is a leading guide to fashion, style, clothing, glam and all things relevant to apparel. We hope that you find this Women's Fleece Pajamas page to be helpful.
Pajamas are typically a suit of a pant and top for sleeping. When we suit that implies that the top and bottom are made of the same fabric. However, pajamas can also be separates with the top and bottom made of different fabrics. Essentially, pajamas are any clothing suitable for wearing to bed.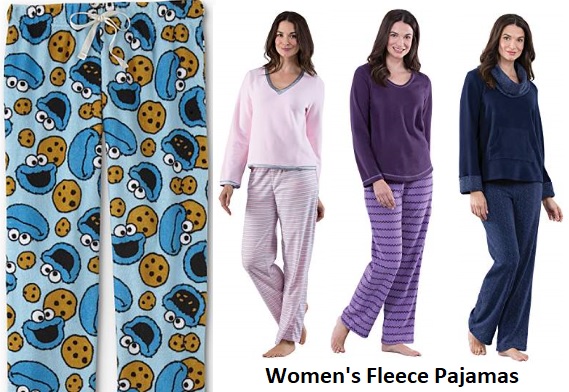 Pajamas or pyjamas, often shortened to PJs or jammies.
Women's fleece is commonly used for ladies pajamas. The fabric can be dyed a solid color or printed to produce novelty prints, floral patterns, stripes, etc.
Learn more about Women's pajamas.
More About Fleece fabric:
Fleece is NOT just the woolly covering of a sheep or goat. Fleece fabric is made from synthetic fiber. This material is generally very soft. It is can be manufactured from recycled plastic bottles or synthetic fibers, such as polyethylene . The fleece fabric is generally lightweight yet breathable, which means air can flow through it easily. Learn more about breathable fabrics.
The polar fleece or also known simply as fleece is a synthetically made fabric from polyethylene terephthalate (PET).
A lightweight, warm and soft fabric, fleece has some of wool's good qualities but weighs a fraction of the lightest available woolens. Polar fleece garments traditionally come in different thicknesses: micro, 100, 200, and 300, with 300 being the thickest and least flexible.
Polar fleece is a soft napped insulating fabric made from polyester. Polar fleece originated in Massachusetts in 1979 when Malden Mills, (now Polartec LLC), and Patagonia developed Synchilla (synthetic chinchilla). It was a new, light, strong pile fabric meant to mimic, and in some ways surpass, wool. Company CEO Aaron Feuerstein intentionally declined to patent polar fleece, allowing the material to be produced cheaply and widely by many vendors, leading to the material's quick and wide acceptance.
You may have interested in searching for other categories of Women's Fleece fashion:
You might want to also learn about women's cotton pajamas if you prefer to wear a natural fiber instead of syndetic.
It might be a good idea to also research women's flannel pajamas.
What ever style of PJ or fabric selection you will most likely look very trendy today. If you want to be even more stylish, you should wear your favorite Women's Fleece Pajamas.