Apparel Search is a leading guide to fashion, style, clothing, glam and all things relevant to apparel. We hope that you find this Women's Fur Coats page to be helpful.
It has been a long-held perceptions that fur coats are the exclusive domain of the rich and famous. Well, that might actually be true. However, with the internet consumers now have more tools to research garments, qualities, and pricing.
What is fur? Fur is the short, fine, soft hair of certain animals. If you are not a fan of real fur, you can also investigate faux fur. Fake fur, also called faux fur, is any material made of cellulose or synthetic fibers designed to resemble fur, normally as part of a piece of clothing.
Fur clothing is clothing made of furry animal hides. Fur is one of the oldest forms of clothing. Women's fur coats have been popular for a very long time. However, they often come in and out of style for various reasons.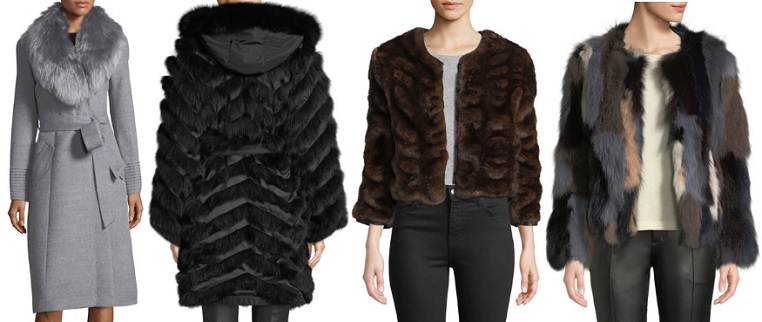 Controversy exists regarding the wearing of fur coats, due to animal cruelty concerns. Fur is still worn in most mild and cool climates around the world due to its superior warmth and durability. The invention of inexpensive synthetic textiles for insulating clothing led to fur clothing falling out of fashion.
Women's fur coats are often associated with glamour and lavish spending.
Animal furs used in garments and trim may be dyed bright colors or with patterns, often to mimic exotic animal pelts: alternatively they may be left their original pattern and color. Fur may be shorn down to imitate the feel of velvet, creating a fabric called shearling.
Anti-fur campaigns were popularized the 1980s and 1990s, with the participation of numerous celebrities. Fur clothing has become the focus of boycotts on the opinion that it is cruel and unnecessary. PETA and other animal rights organizations, celebrities, and animal rights ethicists, have called attention to fur farming.
If you agree with PETA you can join them or donate to their cause at the PETA website.
If you wish to purchase a fur coat, we suggest you also research faux fur coats to see if those meet your needs.
You can shop for fur coats at retailers such as Neiman Marcus, Bloomingdales, and Nordstroms.

Have you seen our Fashion Designer Directory section?