Apparel Search is a leading guide to fashion, style, clothing, glam and all things relevant to apparel. We hope that you find this Women's Leather Gloves page to be helpful.
A women's glove is a type of apparel which is designed to cover a womans hand. Gloves come in many different fabrics, colors, and sizes. They have a wide variety of purposes. There are gloves designed specifically for sports, cold weather, recreation, gardening, industrial purposes, etc. They can also be designed simply for aesthetics (for fashion). Some gloves are meant to keep us warm and others are meant entirely to provide protection. Others are made to be attractive fashion accessories.
Women's gloves made of leather offer more protection than other types of fabrics such as silk or cotton. Leather is a natural durable and flexible material created by tanning animal rawhides and skins.
Women's leather gloves are fabulous for gardening, driving, or simply walking around town. They can be lined with additional fabrics or fur to add additional warmth.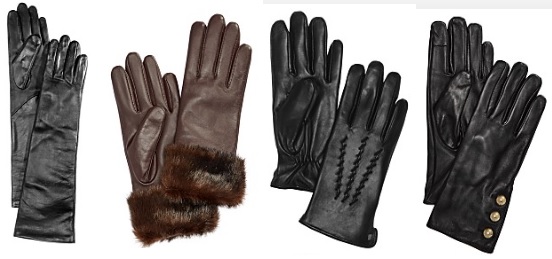 Ladies leather gloves can be embellished to add an additional flare. They can be short, long, fingerless, insulated, padded, etc.
Leather is a material made from the skin of an animal by tanning or a similar process. Learn about the various types of leather grain that can be used for women's gloves.
Learn more about gloves in our influential products section.

What ever you are wearing on your hands is in fashion.

If you want to be even more stylish, you should wear your Women's Leather Gloves.

You may also have interested in learning more about Fashion Accessories

in our clothing industry terminology section.